Practice recognizing and using prepositions with our game board with a set of 20 preposition cards.
🚗💨 BEEP BEEP! 
Our Prepositions Parking Lot game will help you drive home how necessary prepositions are for oral and written language. 
By understanding the proper use of prepositions, you'll equip your students with the ability to give directions, understand location, and provide spatial and relational distances between nouns in sentences. 
Through this activity, your students will use the most frequently occurring prepositions: 
above

around

behind

between

in

in front

next to

on

out

to the left

to the right

under
How to Use This Activity for Prepositions Practice
Use this resource in your reading center, as a guided reading activity, or a whole class exercise (see below) to practice recognizing and using prepositions.
To play, the students will read the prepositional word and find the matching picture to fill the parking lot.
Scaffolding + Extension Tips 
Challenge students who already understand the concept to find the opposite of each preposition. For example, the opposite of "in" is "out," and the opposite "under" is "above." If there isn't an opposite word card, what words could you use instead to make sure you're understood? This kind of logic practice helps students understand how precise their use of prepositions should be to ensure clarity when writing and speaking. 
Support students who need help understanding the concepts by using a prepositions poster or anchor chart as a visual reference. 
Get our 10 Best Scaffolding Strategies here! 
More Ways to Get Prepositions Practice out of This Activity
Use this resource as independent practice for fast finishers and full-class learning opportunities like scoot activities, lesson reviews, comprehension assessments, and more.
🔍 Scavenger Hunt (Beginner)
Hide the preposition cards around the room when your students are not around and put the picture card in the center of the room. Then set your students loose! As soon as they find a piece, they bring it up to the picture card, identify the image that matches the preposition, and put it on the picture. NOTE: You may want to make a rule of only 1 student at a card at one time. If not, things could get a little crazy. 🤪
🎭 Charades (Intermediate)
Ditch the game board and use the cards as charades prompts. Divide your class or small group into 2 teams. Teams will take turns sending up 1 student to act out the preposition on the card for their team while you keep score and hand the cards to the players. Once every student has had their turn to act out a card, the game is over and the group with the highest points wins. 
✏️ Be the Writer (Advanced)
On a separate sheet of paper, students will put pencil to paper to write their own sentences using the prepositions. This activity will allow you to assess each students' understanding of the concept while letting them get in some creative writing practice of their own. 
Easily Prepare This Resource for Your Students
Print on cardstock for added durability and longevity. Place all pieces in a folder or large envelope for easy access. 
Before You Download
Use the dropdown icon on the Download button to choose between the PDF or Google Slides version of this resource. 
---
This resource was created by Lindsey Phillips, a teacher in Michigan and Teach Starter Collaborator. 
Check prepositions lesson planning off your list with everyday grammar activities like these: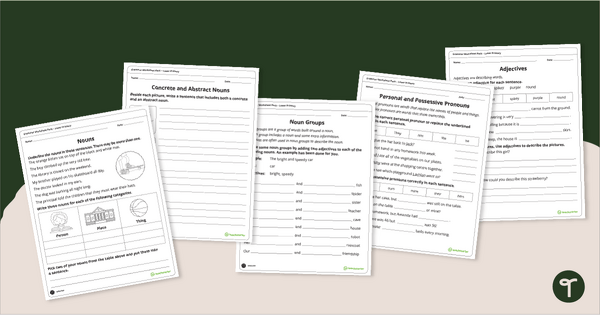 teaching resource
A 13 page worksheet pack to consolidate the learning of different grammar concepts in the early years.
teaching resource
Practice prepositions with our 2-page worksheet that prompts students to identify and use prepositions in sentences.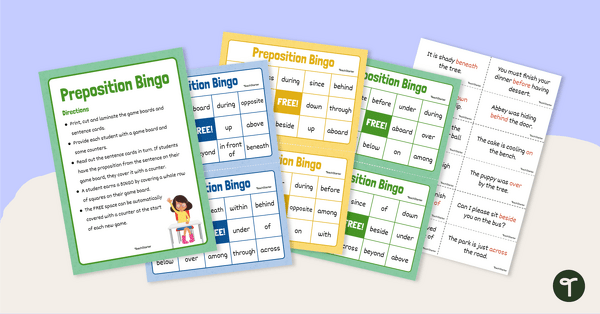 teaching resource
Thirty-two preposition bingo cards with sentences.