A behavior tracker to collect individual student data over the course of a month.
Behavior trackers are a great way to collect data for a student.
This resource allows for quick tracking of one behavior goal and has an area for specific comments.
How to use this resource:
Use the key provided at the bottom of the page.
Circle a number according to the student's daily behavior – 3 for always, 2 for sometimes, and 1 for rarely.
Add specific comments to each day when needed.
There are three versions of this tracker for you to choose from. One version lists the months for you to circle. Another has a space for you to write the month. The last version is an editable word document to customize the rating scale.
If you are looking for ideas on specific behavior goals, you might like this resource: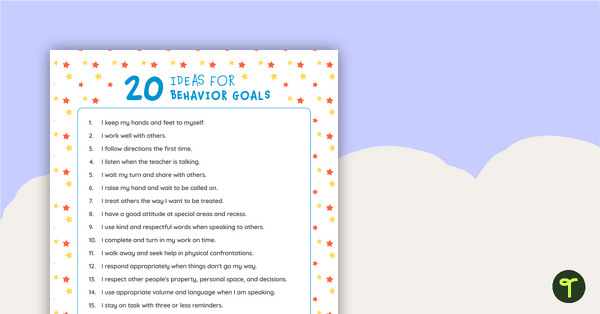 teaching resource
Use this list of 20 behavior goals to help when creating your students' behavior trackers.