Differentiate between different forms of energy by displaying this poster pack in your classroom.
Types of Energy – Printable Science Posters
This set of informative posters will educate your students on the different forms of energy. An easy way to remember the different types (mechanical, electrical, light, thermal, and sound) is with the acronym MELTS.
Each poster features a high-quality photograph, definition, and example. The posters are colorful and engaging, making them an excellent visual aid for teachers to use in the classroom. Whether displayed on a bulletin board or hung in a science classroom, these posters provide a comprehensive overview of energy forms, making them a valuable resource for 3rd and 4th-grade students. This set of posters is a great tool for reinforcing key energy concepts and helping students understand the different types of energy and how they are used in our everyday lives.
This poster pack includes a "MELTS" acronym banner as well as a poster covering each of the different types of energy:
Mechanical Energy

Electrical Energy

Light Energy

Thermal Energy

Sound Energy
How to Make the Most of Your Forms of Energy Poster Pack
Print the posters and display them in your classroom for students to reference when doing independent work.

Print the posters, slip them into a clear sleeve, and use them in your guided groups as a reminder.

Print the posters, slide them into a clear sleeve, and hang them on a ring as a reference tool for a learning center. 
We've also come up with bonus ways to turn posters into interactive tools that really make your lessons stick! 
📝 Create a fill-in-the-blank worksheet by removing selections of text.  
💻 Provide posters as digital resources for virtual students. 
🧠 Test students' memories by showing them the poster, then hiding it and having them tell you what they remember.
✅ Incorporate posters into your lesson wrap-up: students write on a sticky note what they learned from the lesson and place it on the poster. 
🖨️ Download & Print
Use the dropdown icon on the Download button to choose between the PDF or Google Slides version of this resource.
Fill your classroom with more posters and interactive displays!
---
This resource was created by Kaylyn Chupp, a teacher in Florida and a Teach Starter Collaborator. 
Spend more time lesson-doing and less time lesson-planning when you grab these activities and teaching resources too!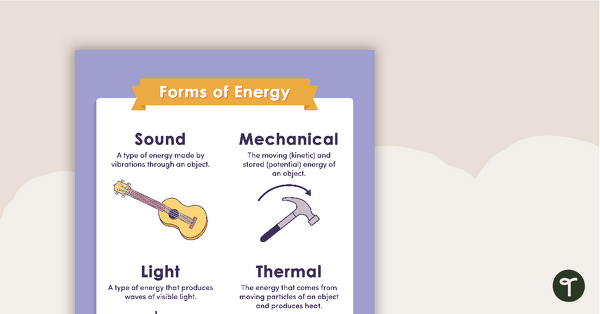 teaching resource
A poster to display in the classroom that shows different forms of energy.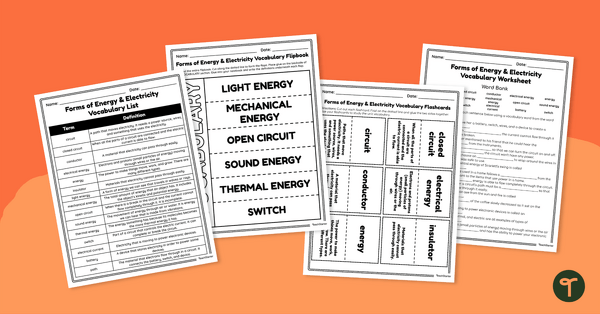 teaching resource
Review forms of energy and electricity terms with this science vocabulary worksheet pack.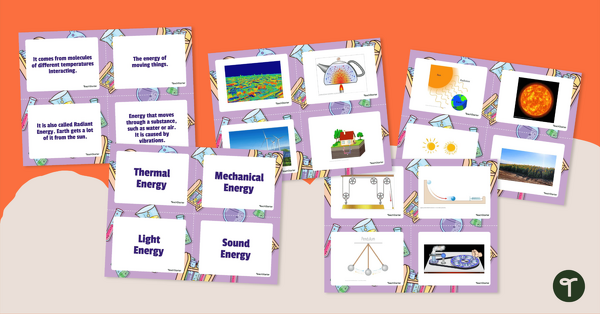 teaching resource
A set of 24 sorting cards to help students identify the different forms of energy.