Teach figurative language using our comprehensive instructional slide deck and accompanying activities.
What Is Figurative Language?
Figurative language is a word or phrase that does not have a literal meaning. It is used by an author for the sake of comparison or dramatic effect. Some examples of figurative language include personification, hyperbole, simile, metaphor, idiom, and onomatopoeia.
When teaching figurative language, it can often be challenging to locate age-appropriate examples to use with our students! This teaching presentation will teach your students how the author's use of figurative language achieves a specific purpose using child-friendly, age-appropriate examples.
Ready-to-Teach Figurative Languages Teaching Slides
This comprehensive instructional slide deck describes each type of figurative language and gives an example for the students to study. The resource offers built-in check-for-understanding slides, making it easy to see which students need extra support while keeping your students engaged throughout the presentation. It also ends with a link to a figurative language activity, allowing your students to put their learning into action!
The types of figurative language taught in this slide deck include:
Personification
Hyperbole
Simile
Metaphor
Idiom
Onomatopoeia
Select Your Preferred File Format
Use the dropdown menu to choose between the Google Slides or Microsoft PowerPoint version of this resource.
---
This resource was created by Meagan Lee, a teacher in Texas and a Teach Starter collaborator.
This presentation includes a link to a Figurative Language Worksheet and a set of Figurative Language Activity Cards to use throughout the lesson. Click on the links below to download.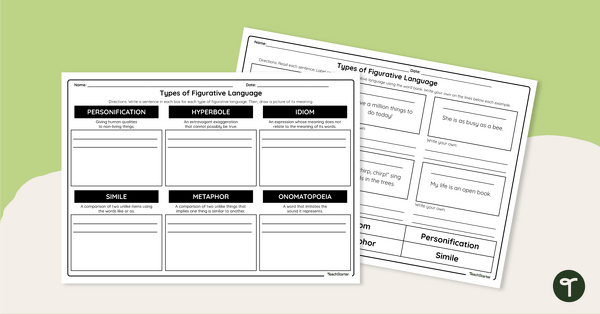 teaching resource
Practice identifying and creating examples of figurative language with this printable worksheet.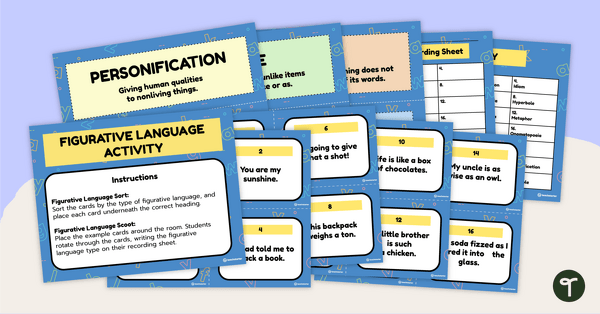 teaching resource
Explore figurative language in context with this set of 28 sorting cards.