Use this multipurpose timeline template for a variety of assignments, projects, and more!
Are your students studying biographies or doing a biography research project? Then you will want to throw timelines into the mix!
Use this handy template to sequence and record events throughout a historical figure's life or a series of changes over time that relate to a single concept.
Biography Timeline Template Scaffolding and Extension Tips 
There is room for 7 events on the timeline, making it an excellent addition to any kind of lesson that discusses a span of time, including
You can even use it as a check-in document for science experiments, personal and academic goal tracking, notating plot points in a story, and more. 
This biography timeline template is an incredibly versatile tool to have on hand! 
A Variety of Ways to Prepare This Resource
Turn this teaching resource into a sustainable activity! Print a few copies on cardstock and slip them into dry-erase sleeves. Students can record their answers with a dry-erase marker, then erase and reuse. 
Additionally, project the worksheet onto a screen and work through it as a class by having students record their answers in their journals.
Before You Download
Use the dropdown icon on the Download button to choose between the PDF or Google Slides version of this resource. 
Don't Stop There
Check out more handy timeline tools and activities here: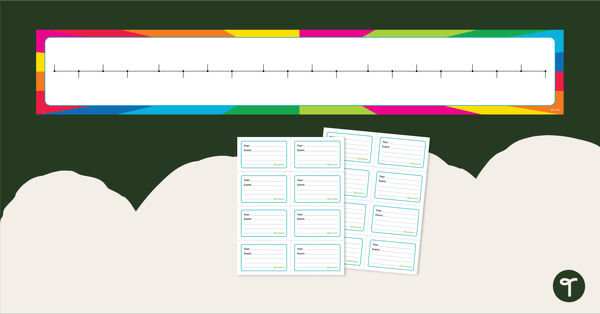 teaching resource
Use this timeline display in a variety of ways in the classroom.
teaching resource
A set of 2 worksheets to use in the classroom when learning about families.