Print these cut-out templates and decorations to create an interactive, brainstorming "Wonder Wall" display in the classroom.
Celebrate curiosity in the classroom when you head back to school with classroom decor that's all about wonder! This printable (and editable) wonder wall classroom display has been designed by our teacher team to inspire big thoughts!
Display Your Printable Wonder Wall Template
Use this teaching resource to create an interactive "Wonder Wall" classroom display. The download includes:
an "Our ideas are under construction" speech bubble
a "We're building our knowledge" speech bubble
an "Our knowledge is under construction" speech bubble
a blank speech bubble
brick templates for Wonder Wall questions in different shades of brown
brick templates for Wonder Wall questions with an "I wonder…" prompt
construction-themed characters, wheelbarrow and bricks decorations

What's a Wonder Wall?
Not familiar with this type of display? It's OK! The Teach Starter teacher team has you covered!
A wonder wall classroom display provides students with the opportunity to record the things they 'wonder about.' When a seemingly random question pops up in their mind, when they are engaged in learning about a topic and wonder something that sits a little outside of the lesson plan, they can write out their wonder and add it to the wall.
Then during a designated time, or perhaps as a fast-finisher activity, students are able to research and find out the answer to their question.
Some teachers enjoy doing this as a whole class activity, picking one or two wonders off the wall and finding out the answers together. It can be a really fun way to build knowledge, as well as increasing classroom positivity and connection.
A wonder wall can also be used as a brainstorming activity at the beginning of a new unit of work, or when starting inquiry-based projects like Genius Hour.
How to Set Up This Wonder Wall
Use the bricks template and decorations included in the download to create a display.
Students write out questions related to topics that they 'wonder about' and build a "Wonder Wall' display.
Students can glue their photo or an avatar or draw a picture of themselves on the left-hand side of the brick.
Once or twice a week you can choose a question from the class' Wonder Wall and find out the answer to the question. This could be done in small groups or as a class.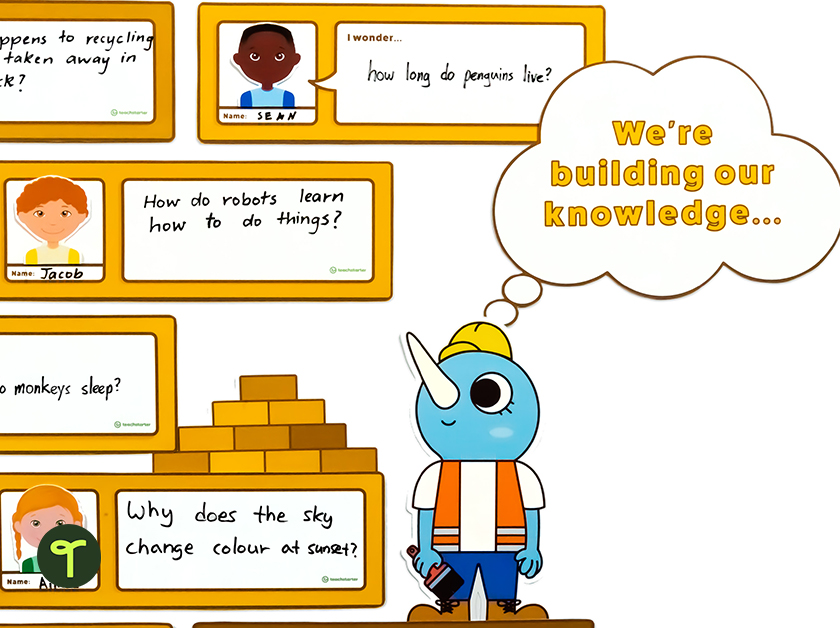 Use the editable Microsoft Word version to create unique speech bubbles for your display, or to type up your students' questions.
Finish your display with the Wonder Wall Display Banner.
If you are keen to sink your teeth into some more wonderful inquiry-based learning resources, you may like to check out the following: