Practice self-reflection through a series of questions that allow students to actively participate in developing a growth mindset.
Be an Advocate for Developing a Growth Mindset
Use this resource in your games center, or as a whole class exercise (see below) to practice being proactive in promoting a growth mindset.
Using a permanent marker, number a set of Jenga™ blocks 1-54.  
To play, project the list of questions or provide the list on a sheet of paper. Set up the tower by stacking the blocks in sets of 3, rotating each layer by 90°. Then split the class or a small group into two teams and have one person at a time pull a block. Students announce the number they pulled, and the teacher will help them read the question corresponding with the number on the question sheet.
After a player answers the question, they stick their wood piece on the top of the tower, rotating it to keep the tower balanced. Players take turns pulling blocks and answering the questions until the tower falls over 
Scaffolding and Extension Tips + More Growth Mindset Games
Challenge students who already understand the concept—have multiple games running and allow students to run the game themselves. 
Support students who need help understanding the concepts by working in small peer groups.
Use this resource as independent practice for fast finishers, and for full-class learning opportunities like scoot activities, lesson reviews, class check-ins, and more.
📔 Journaling
Project the sheet at the front of the room, and have students take turns selecting a numbered wooden block from the set. Each student will find their corresponding question from the sheet and write their answers as an entry in their personal journal. Alternatively, students can draw a picture that illustrates their response to the question. 
🗣️ Turn & Talk 
Invite students to pair up with someone in the seat nearest to them for a 5-minute Turn & Talk. You can choose to have students focus on a specific self-reflection question, or allow students to pull a wooden piece and select their own. Use this Turn & Talk session to encourage students to make space for each other by actively listening, asking questions, and practicing empathy. 
🖍️ Create a Story
Allow students to choose a piece and write their questions at the top of a piece of blank paper. Either at home or in the classroom, students will draw a short comic (3-6 frames) that illustrates their response to the question they pulled. Students can pair up and share their comics with each other, ask questions, and make space for self-reflection. 
Get our 10 Best Scaffolding Strategies here! 
Easily Prepare This Resource for Your Students
Print on cardstock for added durability and longevity. Place all pieces in a folder or large envelope for easy access. 
Before You Download
Use the dropdown icon on the Download button to choose between the PDF or Google Slides version of this resource. 
---
This resource was made in collaboration with Colleen Burke, a teacher in New York and a Teach Starter Collaborator. 
Check out more helpful growth mindset resources from our Social and Emotional Learning area:
teaching resource
Remind your students to have a growth mindset with this bulletin board display.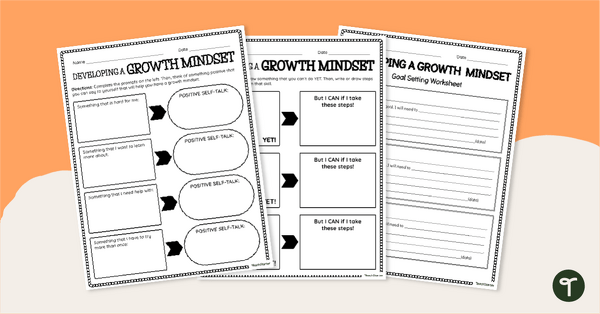 teaching resource
A set of 2 worksheets to practice developing a growth mindset.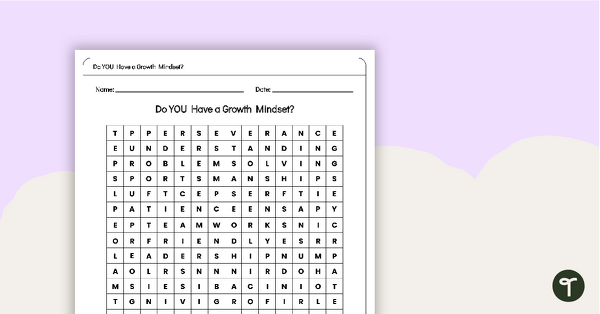 teaching resource
Use this word search activity to show students the qualities and characteristics of creating a growth mindset in the classroom.