Help your students prepare for fire emergencies with a family escape plan template.
Fire Prevention at School – And at Home 
Do your young learners know what to do in case of a fire in their home? Chances are, they do not. They may not have been taught the do's and don'ts when reacting to an emergency situation involving fire. 
This fire escape planning template is the perfect resource to send home with your students during Fire Prevention Week. Encourage your students and families to talk through what they would do if a fire were to occur and how they would reunite and guarantee the safety of their family members. 
This Fire Escape planning template requires students to write down their family escape plan and draw a map of their exit route and reunification point. It makes the perfect Fire Prevention Week homework assignment.
Tips for Differentiation + Scaffolding 
We've differentiated for you! We have created this template with all grade levels in mind. The three options included have varying line width and spacing options. There are narrow lines, broad lines, and primary lines for our youngest students.
Easily Download & Print
Use the dropdown icon on the Download button to choose between the PDF or Google Slides version of this resource. 
Get more Fire Prevention Week lessons!
---
Don't stop there! We've got more activities to fill your fire prevention week lesson plans
teaching resource
A writing activity to help students construct an informative text based on factual information.
teaching resource
Use this thank you for being brave greeting card and letter template on Veterans Day or Fire Prevention Week with your students.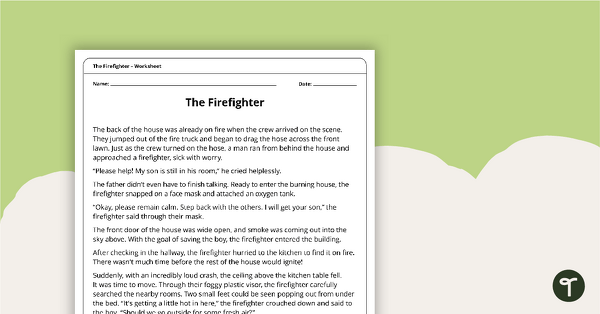 teaching resource
A story and worksheet that explores issues regarding female gender stereotypes.