Put words in alphabetical order with this 24-card movement activity for your whole class or small group.
Understanding alphabetical order is a skill that reaches into multiple areas. 
It helps with research, knowing how to look in a dictionary, a glossary, an index, or find a book in the library. 
Alphabetical ordering is also a process that, once learned, we can apply effortlessly to organizing our lives. Plus it helps us save time!  
In the first set of 12 cards, students will practice ordering words to the first or second letter. The next set of 12 cards they will practice ordering up to the third letter.
Practice Putting Words in Alphabetical Order
Use this active game as a full class activity (see below), or with your guided reading group, to practice alphabet sequencing. 
To play, hang the cards around the room. Then provide students with a recording sheet and assign each student to a starting card. Provide an allotted amount of time for students to read and put words in alphabetical order. Students will write the words on their recording sheet in the matching numbered box. Use a signal like clapping your hands, flicking the lights, or calling out, "Scoot!" to motion students to rotate. Students will move in numerical order. Play continues until the students return back to the card where they started. 
Scaffolding and Extension Tips + More Alphabetical Order Activities
These alphabetical ordering cards can be used for group or individual instruction, and even as a reading center activity. We provide additional ideas below using these cards to create full-class learning opportunities like lesson reviews, content extension, comprehension assessments, and more. 
To challenge fast finishers who have grasped the concept, students can make their own cards for a scoot activity. Or why not have them determine the category that each card encompasses, e.g., ruler, marker, crayon, scissors = school supplies.
To support struggling students, invite them to use a visual reminder, like an anchor chart or an alphabet display. You might also use this resource as a reading intervention by reading the words with students and helping them verbalize the words before writing and ordering them on their answer sheets.
Sentence Practice
Once they have finished all 24 task cards, students can write 3-5 sentences using the words in alphabetical order. 
Ex: I went to the store to get crayons and markers. While I was there I also got a ruler and scissors. 
Test Prep or Class Review
You can easily turn this game into a review session at the end of your lesson, or right before a test to give students some extra practice. Project and read the cards in order 1-24 out loud to your class, and ask them (independently or in pairs) to write the words in alphabetical order on their recording sheets.
Knock Off
Have your students stand up and make a line across the room. Project a task card on the screen and use our Random Name Picker widget to draw a student's name to answer. If the student correctly identifies the first word in the alphabetical sequence, they tap the person on their left or right to send them back to their seat. If the student answers incorrectly, they must sit out. Play continues until only 1 student is standing.
Easily Prepare This Resource for Your Students
Print on cardstock for added durability and longevity. Place all pieces in a folder or large envelope for easy access. 
To turn this teaching resource into a sustainable activity, print a few recording sheets on cardstock and slip them into dry-erase sleeves. Students can record their answers with a dry-erase marker, then erase and reuse.
Keep the task cards out of pockets or under desks: cut out the cards and punch a hole in the corner of each to place them on a binder ring. 
Because this activity includes an answer sheet, we recommend first printing one copy of the entire file. Then, make photocopies of the blank worksheet for students to complete. 
Before You Download
Use the drop-down icon on the Download button to choose between the PDF or Google Slides version of this resource. A recording sheet and answer key are also included with this download.
---
This resource was created in collaboration with Heather Chambers, a teacher in Texas and a Teach Starter Collaborator. 
We've got even more alphabetical order activities and tools to help your students boost this essential skill: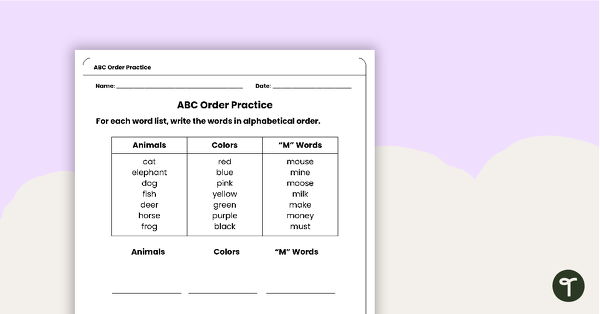 teaching resource
A worksheet to practice putting a list of words in alphabetical order.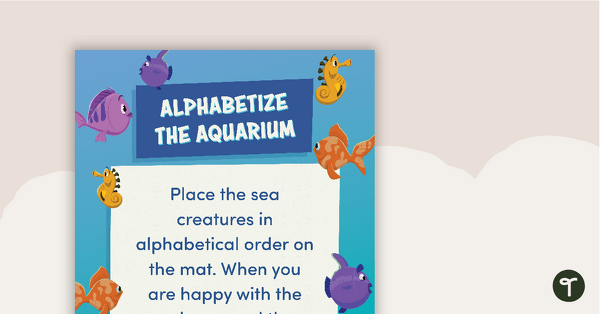 teaching resource
A set of 4 mats for students to practice alphabetizing.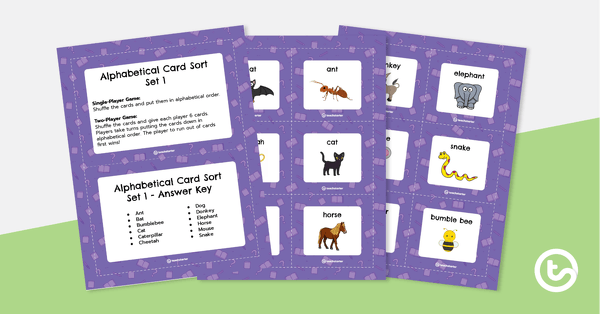 teaching resource
A set of word cards to practice putting words in alphabetical order.