Teaching students to write an acrostic poem can be a lot of fun. After all, these poems taught in elementary school are popular with kids thanks to their "hidden message" format. But what is an acrostic poem, exactly? And should you add this type of poetry to your English Language Arts activities this school year?
Let's take a look at some of the best ways to teach students how to write an acrostic poem, plus some popular acrostic poem examples!
What Is An Acrostic Poem?
An acrostic poem is a poem in which the first letter of each line spells out a word or phrase when those letters are read vertically (from top to bottom). Acrostic poems can also spell out proper nouns such as names or places.
It's because of that word running up and down the left-hand side that acrostic poems seem to bear a hidden message. It also makes these poems popular for kids to create gifts. Students can write out words that describe a particular person using letters of that person's name, such as an acrostic written for a mom for Mother's Day that builds off the letters in the word "mother."
Print an acrostic poem poster for students to reference in the classroom while learning how to write an acrostic poem!
How to Write an Acrostic Poem
To write an acrostic poem, students should choose a topic word, which should be written from the top to the bottom along the side of a piece of paper, leaving space for the rest of the poem to be written out horizontally — building out from each of the vertical letters.
The word that is spelled out in an acrostic poem is typically also the title of the poem, although it doesn't have to be. A poem writer may decide to use a word to give shape to their acrostic poem that is not in the title, forcing the reader to look more closely and see the hidden message jump out at them.
Another factor that can vary in acrostic poems is the length of each line of the poem. Young elementary school students just starting their poetry writing journey may write out just one word or two per line, while more advanced poets may write more expansively, even including full sentences for each line. The lines of an acrostic poem may or may not rhyme, but the poem writer may use other elements of poetry such as alliteration, similes, or repetition to form their poem.
Download teacher-created resources to help your students learn the elements of poetry!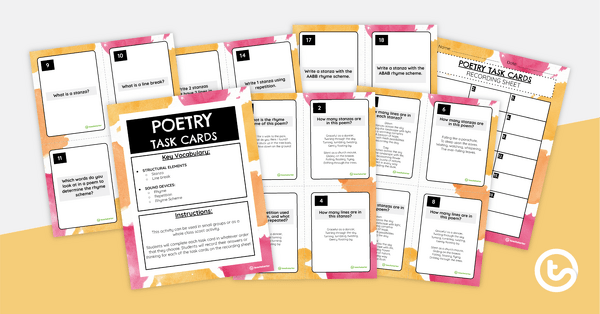 teaching resource
A set of 20 task cards to practice different elements of peotry.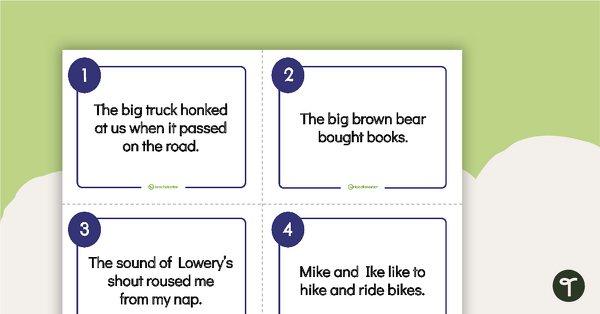 teaching resource
Reinforce sound devices used in text by sorting 16 figurative language cards into their appropriate category.
Acrostic Poem Examples
When teaching students how to write an acrostic poem, examples can provide a sentence frame for students to use as a model for their own work.
Some famous acrostic poem examples come from Lewis Carroll, who also wrote the popular children's story Alice in Wonderland. For example, Caroll wrote a poem simply known as "Acrostic" in 1861. The poem was a gift given to a little girl named Alice Liddell and her two sisters. Alice is best known as the inspiration for Alice in Wonderland.
Acrostic by Lewis Carroll

Little maidens, when you look
On this little story-book,
Reading with attentive eye
Its enticing history,
Never think that hours of play
Are your only HOLIDAY,
And that in a HOUSE of joy
Lessons serve but to annoy:
If in any HOUSE you find
Children of a gentle mind,
Each the others pleasing ever—
Each the others vexing never—
Daily work and pastime daily
In their order taking gaily—
Then be very sure that they
Have a life of HOLIDAY.
If you look closely at this acrostic poem example, you'll notice the names Lorina, Alice, and Edith appear vertically, formed by the first letter of each line in the poem. These are the names of the three Liddell sisters.
Poet Edgar Allan Poe is better known for poems like Annabel Lee or The Raven, but the author also penned a famous acrostic poem example. The acrostic was not published during Poe's lifetime, so just who it is about is uncertain, but it is believed to be about a cousin named Elizabeth. That's also the word that you will find hidden in this acrostic poem!
An Acrostic by Edgar Allan Poe

Elizabeth it is in vain you say
"Love not" — thou sayest it in so sweet a way:
In vain those words from thee or L.E.L.
Zantippe's talents had enforced so well:
Ah! if that language from thy heart arise,
Breath it less gently forth — and veil thine eyes.
Endymion, recollect, when Luna tried
To cure his love — was cured of all beside —
His follie — pride — and passion — for he died.
Younger students may benefit from reading less complex acrostic poem examples like this one, written for Earth Day: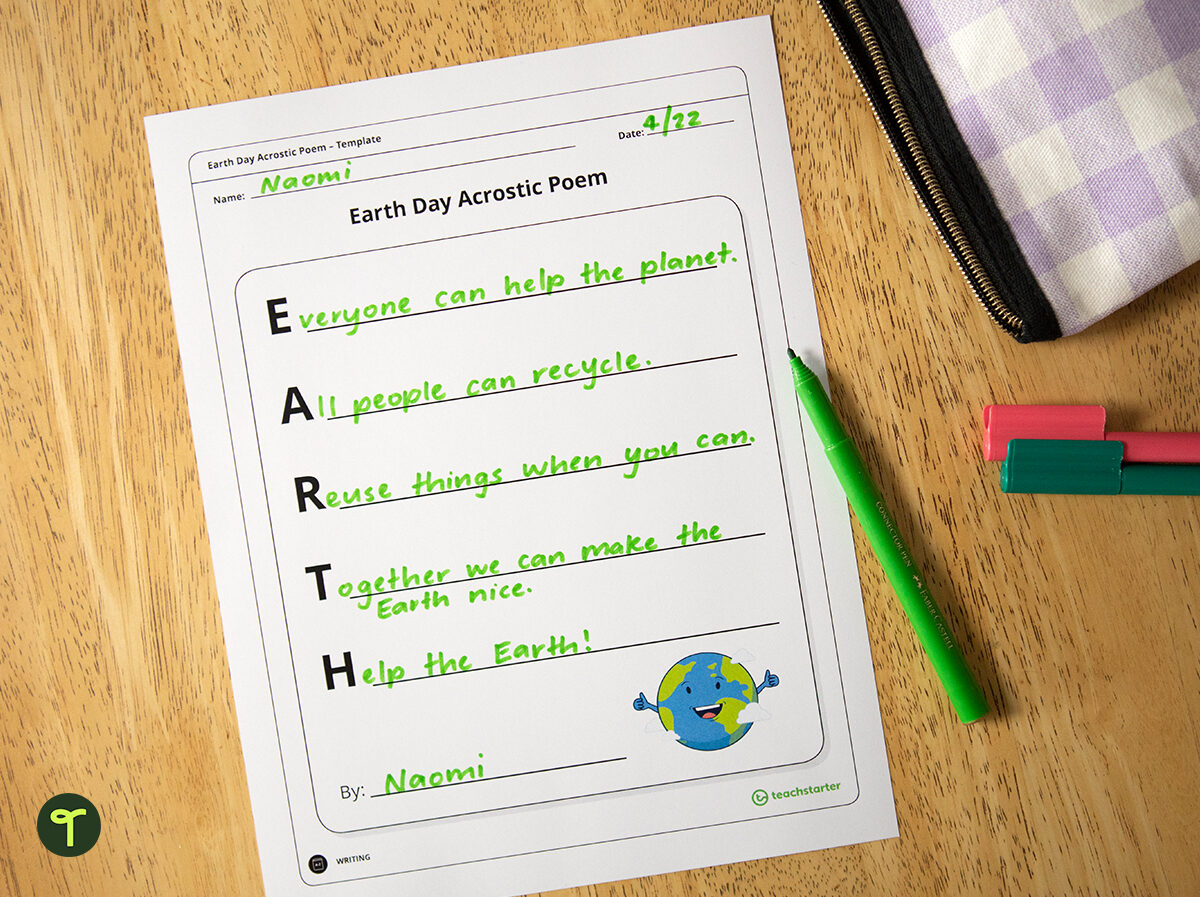 You can also use an acrostic poem template as a scaffold to help students learn to write their own poems.