Teach your students about line symmetry with a bunny-themed symmetry grid worksheet this Easter!
Explore Line Symmetry With the Easter Bunny
What would happen if you drew a line straight down the center of an Easter egg, splitting it into two equal parts? Explore line symmetry (or reflection symmetry) with this teacher-created printable worksheet featuring an Easter egg with a bunny decoration on its side!
Students will use the symmetry grid to complete the other side of the picture, reflecting what they see on the left side of the Y-axis onto the right side of the picture, creating two sides that mirror each other.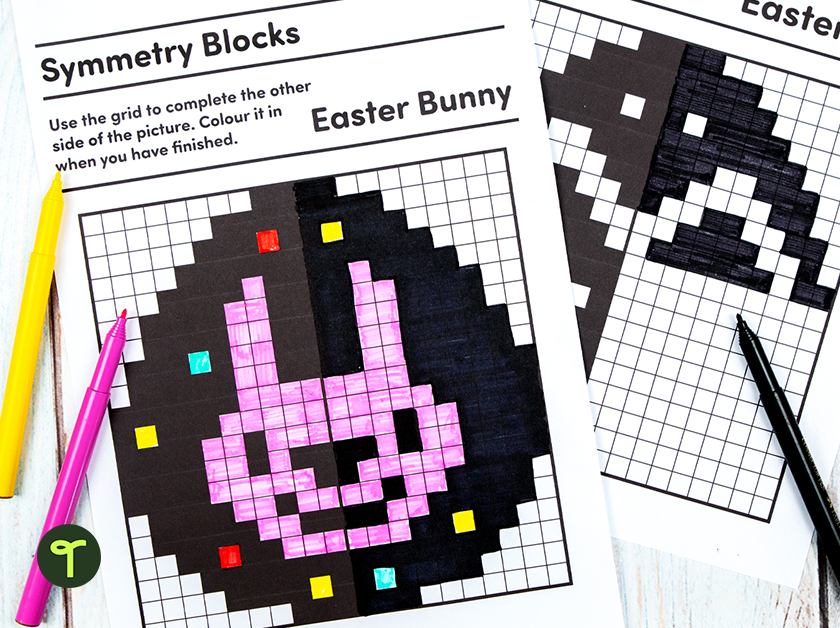 How to Use This Activity
Select the download button to download the symmetry grid worksheet and answer sheet — both of which are available in black-and-white PDF form.
After students identify the line of symmetry and complete the mirrored image, you can also ask them to create their own shapes that have line symmetry and draw them on grid paper, labelling the line of symmetry. You can also give the students a set of shapes, and ask them to identify which ones have line symmetry!