Create word chains by manipulating the individual phonemes in words with this differentiated word-building worksheet.
Building New Words One Phoneme at a Time!
The ability to distinguish and manipulate the distinct sounds in words is a fundamental aspect of phonemic awareness.
This worksheet provides students with the opportunity to manipulate phonemes in order to create a continuous word chain. Starting with the targeted "start" word, students follow the directions to manipulate the phonemes in the word to generate a new word. This process continues, and a word chain is formed.
Once the students have created their word chains, they are encouraged to read the word list to themselves or to a peer. There are stars at the bottom of the worksheet for students to color each time they read their word chain aloud.
All of the CVCC words included on the worksheet require the students to blend the letters s and t at the end of the word. 
Easily Differentiate for Your Students
There are two differentiated versions of the worksheet included in the download.
Version 1: No scaffolding is provided. The students simply write the new word created each time on the line provided.
Version 2: Sound/letter boxes are provided showing all the letters/sounds in the new word (other than the phoneme that is changing).
Additional Uses of This Word Chain Worksheet
Ask students to select 3-5 words from the worksheet to include in a short story.

Ask students to create

word families

using a selection of words from the worksheet.

Challenge more-capable students to create their own word chain for a partner to solve, using the worksheet as a guide.
Easily Download & Print
Use the dropdown icon on the Download button to choose between the PDF or Google Slides version of this resource. 
As this resource contains an answer sheet, we recommend you print one copy, then photocopy the desired number of worksheets for your class.
You might also like to print a few copies on cardstock, then slip them into dry-erase sleeves. Students can record their answers with a whiteboard marker, then erase and reuse. 
Get more handy worksheets here!
---
This resource was created by Alessandra Pastor, a teacher in Massachusetts and a Teach Starter collaborator.
Check out some of our other teacher-created resources for phonemes.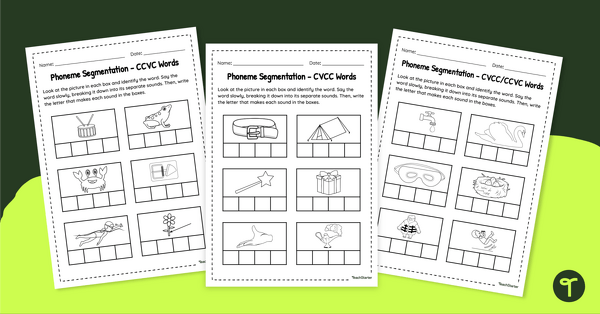 teaching resource
Use this worksheet pack to give students practice at segmenting words into phonemes.
teaching resource
Form words by blending onsets and rimes using a Google Interactive Onset-Rime Clip Card Center.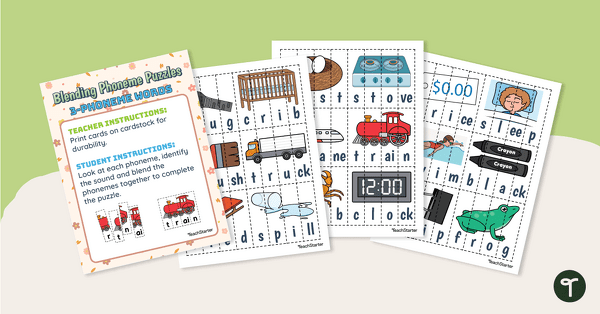 teaching resource
Master blending phonemes with 4-phoneme blending puzzles as a reading center activity.