Teach your students what to do in case of a fire with a "What Should I Do?" Fire Safety sorting activity.
Teach Fire Safety to Even the Youngest of Students 
Do your young learners know what to do in case of a fire in their home? Chances are, they do not. It's very possible that they have not been taught the do's and do nots when it comes to reacting to an emergency situation involving fire. We're here to help you teach these concepts and keep those kiddoes safe!
This fire safety worksheet is designed for elementary students, and it would make an excellent summarizing activity to wrap up Fire Prevention week. To use, students will cut apart a series of picture/word statements and sort them into two categories. One column is for responses that are the correct way to respond to a fire, and the other column is for ways that are not. 
Some of the fire safety rules discussed in this sort are
Stay down low and crawl to exit a building and avoid the smoke.

Exit the building as quickly and safely as possible.

Meet your family at a designated meeting place away from the home.
This sorting activity provides your learners with a way to understand and discuss how they should react if they found themselves in a fire. This activity works well for students in all grade levels, as kids are never too young to learn how to be safe.
Tips for Differentiation + Scaffolding 
In addition to independent student work time, use this worksheet as an activity for:
🚀Engage your fast finishers by having them draw and write to make posters of the important fire safety rules learned in the activity.
🆘Differentiate for your struggling readers by providing read-aloud accommodations and small group instruction if needed.
Easily Download & Print
Use the dropdown icon on the Download button to choose between the PDF or Google Slides version of this resource. 
Get more worksheets to have handy!
---
Don't stop there! We've got more activities to fill your fire prevention week lesson plans
teaching resource
A writing activity to help students construct an informative text based on factual information.
teaching resource
Use this thank you for being brave greeting card and letter template on Veterans Day or Fire Prevention Week with your students.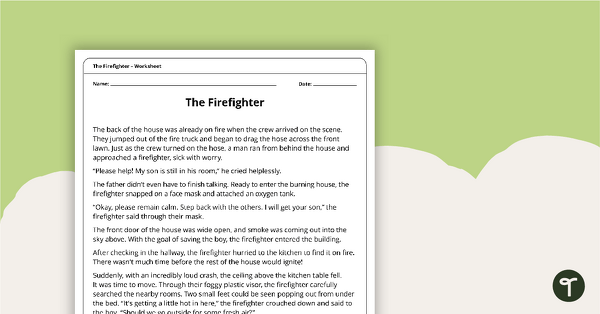 teaching resource
A story and worksheet that explores issues regarding female gender stereotypes.