Explore what causes the seasons on Earth to change with this printable mini-book.
What Causes the Seasons to Change?
Is this a question your students have been asking you about? To them, the change of the seasons is a normal part of life and sometimes goes without a thought. 
The changing of the seasons is caused by Earth tilting on its axis and its orbit (revolution) around the Sun. The Earth's axis is tilted at an angle of approximately 23.5 degrees relative to its orbit around the Sun. Due to the tilt, different parts of the Earth receive different amounts of sunlight, leading to changes in temperature and weather patterns that we experience as the seasons. In the Northern Hemisphere, for example, the tilt of the Earth's axis means that it receives more direct sunlight in the summer, which is why we have warm weather, and less direct sunlight in the winter, which is why we have cold weather.
If you are looking to dive into this topic with your students, Teach Starter has created a printable mini-book that will take your students through the reasons we experience winter, spring, summer, and fall. 
Throughout this mini-book, students have opportunities to interact with the text by illustrating diagrams, labeling seasons, and more!
Tips for Differentiation + Scaffolding 
A team of dedicated, experienced educators created this resource to support your science lessons. 
In addition to individual student work time, use this mini-book to enhance learning through science centers, whole class lessons, or remote learning assignments. 
If you have a mixture of above and below-level learners, check out these suggestions for keeping students on track with the concepts: 
🆘 Support Struggling Students
Invite students who need additional support to reference previous assignments, posters, or anchor charts. Additionally, this activity can be completed in a one-on-one setting or with a small group.
➕ Challenge Fast Finishers
Challenge students to complete the last page without looking back at previous pages in the book for reference.
Plan your lesson with additional resources that cover the cause of seasons, moon phases, and more!
Easily Prepare This Resource for Your Students
Use the dropdown icon on the Download button to choose between the PDF or editable Google Slides version of this resource. 
Print the pages, cut them in half, and assemble them by stapling them along the left-hand side of the booklet.
---
This resource was created by Bellamy Taylor-Pines, a teacher in Illinois and a Teach Starter Collaborator. 
Don't stop there! We've got more activities and resources that cut down on lesson planning time: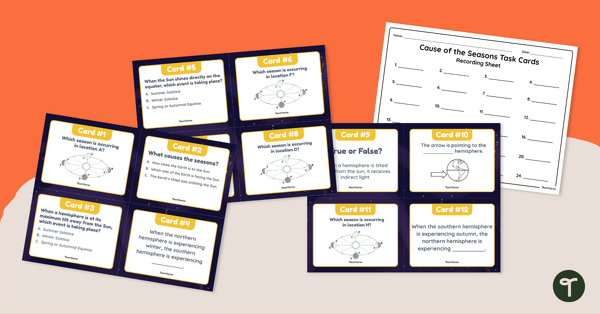 teaching resource
Demonstrate an understanding of what causes the seasons with this set of 24 task cards.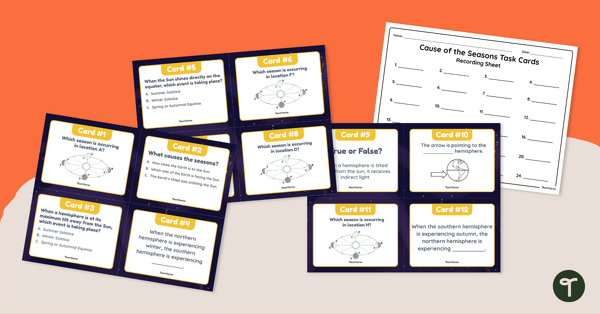 teaching resource
Demonstrate an understanding of what causes the seasons with this set of 24 task cards.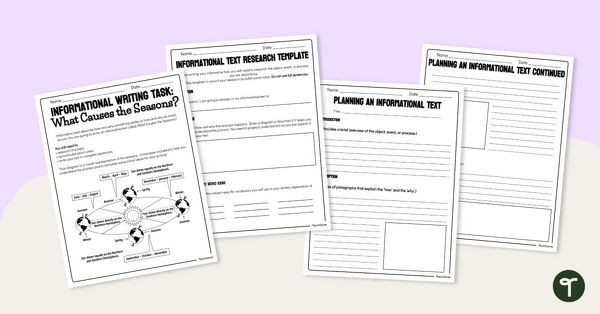 teaching resource
A scaffolded writing task for students to complete when learning about the informative text type.