Teach your students virtual meeting skills for Google Meet and Zoom with this 24-slide interactive presentation.
Teaching virtual meeting skills and etiquette can be tricky when you are communicating through a screen! Use this PowerPoint to teach your students how to navigate virtual meetings. Your students will learn skills like muting their microphone, sharing their screen, and more!
Both Google Meet and Zoom are included in this presentation. The hyperlinked buttons allow you to navigate through the presentation showing only one platform. You can, however, navigate through the presentation showing both platforms if you need to.
Use the drop-down menu to choose between the PowerPoint, Google Slides, or PDF versions.
You might also like these Virtual Meeting Icons Flashcards: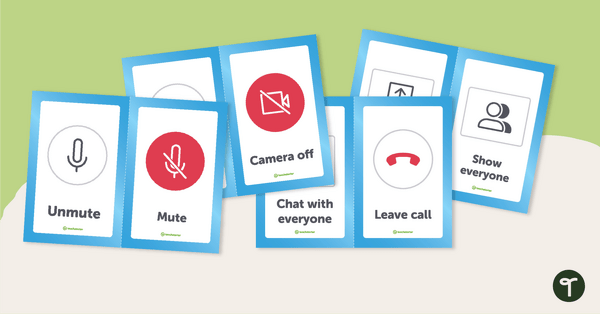 teaching resource
A set of flashcards and stickers to use when teaching virtual skills to students.