Identify the major rivers and mountains in the United States with a set of Google Slides interactive clip cards.
Discover U.S. Mountains and Rivers with Teach Starter
The United States is home to many river systems and mountain ranges. It is only fitting that students learn about the major land features in the United States.   With this set of interactive clip cards, students are required to identify the mountain ranges and rivers in the United States based on an image depicted on a U.S. map.
The following U.S. rivers and mountains are referenced in this set of task cards.
Appalachian Mountains

Rocky Mountains

Sierra Nevada Mountains

Mississippi River

Missouri River

Rio Grande River

Ohio River

Colorado River

Hudson River.
This resource download includes a Google Slides interactive activity in which students drag and drop icons to identify the correct mountain range or river marked on the map. There are ten interactive clip cards, making them the perfect review activity or assessment.
For students who need extra support, use these as an intervention activity in a small group setting. It may be helpful to provide the students with a physical map to reference during the exercise.
Tips for Differentiation + Scaffolding 
A team of dedicated, experienced educators created this resource to support your U.S. Geography lessons.
In addition to individual student work time, use this activity to enhance learning through whole-class lessons or remote learning assignments. 
If you have a mixture of above and below-level learners and ELL/ESL students, we have a few suggestions for keeping students on track with these concepts: 
🆘 Support Struggling Students
Provide struggling readers with a map to reference, or have them use an anchor chart or notes sheet during the completion of the activity.
➕ Challenge Fast Finishers
Challenge your fast finishers to extend their learning by researching one of the locations from the activity. They can create a poster, a slide show, or even a video about the different destinations.
🧑‍🏫 Group Learning
Project the slides onto a screen and work through them as a class by having students record their answers in their notebooks or mini whiteboards. 
Plan lessons for all ability levels with our 10 Best Scaffolding Strategies! 
Easily Prepare This Resource for Your Students
Use the Download button to download the Google Slides version of this resource.
Assign this interactive activity to Google Classroom. Please be sure to open in Edit mode, not presentation mode. Students click/drag/drop to identify rivers and mountains in the United States.
Alternatively, print slides to use for your: 
Lesson warm-ups

End-of-the-day wrap-ups

Homework assignments
---
This resource was created by Lindsey Phillips, a teacher in Michigan and a Teach Starter collaborator.
While you're here, check out more activities and teaching resources that fill your lesson plans and students' brains: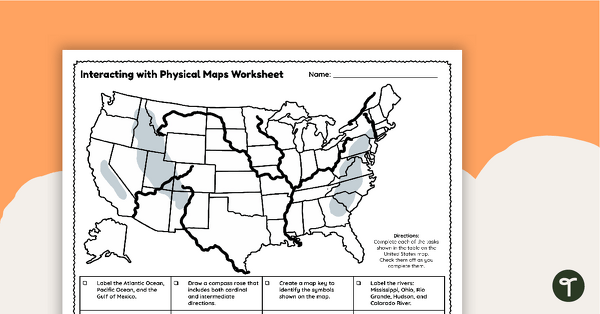 teaching resource
Apply knowledge of the major U.S. land features, mountains, and rivers with a map labeling worksheet.
teaching resource
Practice identifying the major rivers and mountains in the United States with a Bingo Game.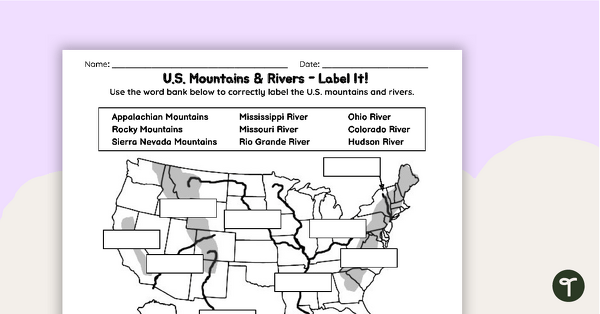 teaching resource
Locate rivers and mountains on a U.S. physical map with two labeling worksheets.