Print these "thank you for helping us grow" flower craft templates for your students to make thank you gifts for teacher's aides and other support staff on Teacher Appreciation Week, gifts for mom on Mother's Day, or even thank you gifts for Grandparents Day!
Thank You for Helping Us Grow Craft
Do you need the perfect craft for your class during Teacher Appreciation Week to say thank you to your teacher's aide? Or maybe you're looking for a way to thank a guest speaker in your classroom? Use this printable craft template to create a single flower or a garden of flowers for someone who has made a difference for kids in your class — it's a multi-use craft that can apply to a long list of holidays from Mother's Day to Grandparents Day too!
Building off the popular quote "Thank you for helping us grow," this craft for kids includes a series of flower templates that can be printed and assembled with students' photos as the centers of the flowers, and you can also download our Thank You for Helping Us Grow thank you card templates for students to write out personal notes of thanks to the person (or people) who have helped them grow as learners or human beings.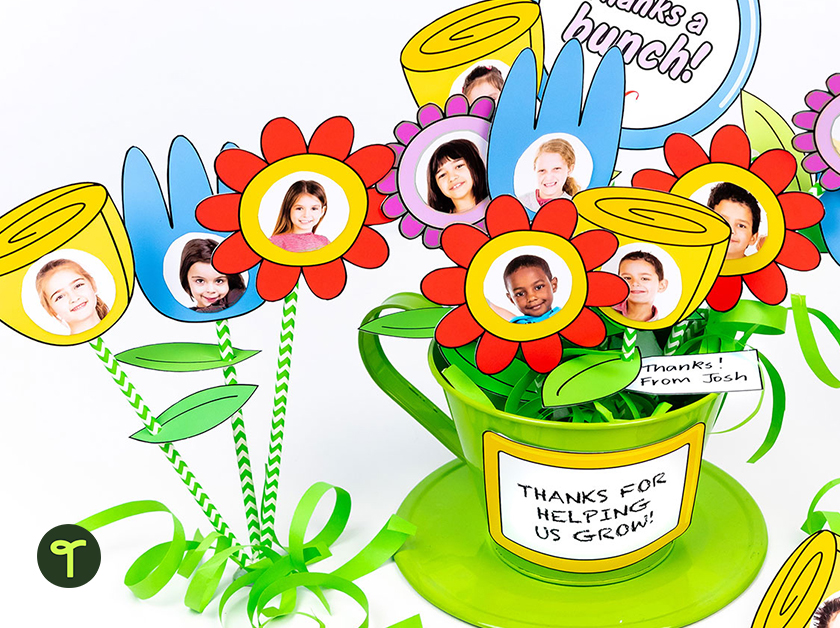 How to Make Your Thank You For Helping Us Grow Garden
Supplies:
Thank You for Helping Us Grow template
Cardstock
Small photos of your students
Glue
Scissors
Paper straws
Flower pot (optional)
Green strips of paper or ribbon (optional)
Full instructions for creating this flower garden craft are included with your printable, but here are a few extra tips from our teacher team to help you out!
If you're filling a flower pot with your students' blooming flowers, place a piece of foam in the bottom of the pot to secure the straws and hold them in place. Cover the foam with skinny strips of curled green paper to act as grass.
Use a hole punch to make holes in the leaves and tags. This will make it easier to attach them to the straws.
Take advantage of the black-and-white download option, and allow your students to decorate the flowers themselves.