Bring a bit of fall into the classroom with an apple-themed rhyming word game for Preschool and Kindergarten.
Apple Themed Rhyming Word Lists, Games, and More!
Are you looking to bring a broader range of Apple activities into your fall lesson plans? We've got you covered with a fun game to practice finding rhyming words for kindergarten and preschool thematic units. This resource is a fun apple-themed rhyming word memory game! 
How to Play our Rhyming Word Game
Memory is a game that's easy to pick up but hard to put down.
It's simple: Turn all the cards face down. Then, flip over two cards and try to match them by rhyming the two words shown. If they rhyme, keep them! If not, turn them back over and continue playing until all the cards are matched. The first player to find all their matches wins!
With this resource download, students will celebrate fall and develop their reading, spelling, and writing skills in a fun and engaging way!
Easily Prepare This Resource for Your Students
Use the dropdown icon on the Download button to choose between the PDF or Google Slides version of this resource. 
Make sure you stop by the collections to find more resources with rhyming words for kids!
---
This resource was created by Lisamarie Del Valle, a teacher in Florida and a Teach Starter collaborator.
Don't stop there! We've got more fall craft activities, worksheets, and resources that cut down on lesson planning time: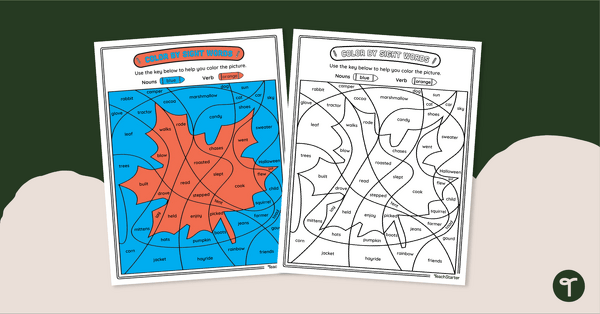 teaching resource
Use this fall color by part of speech worksheet to review nouns and verbs.
teaching resource
Use this color by part of speech worksheet as a fun fall activity with your students.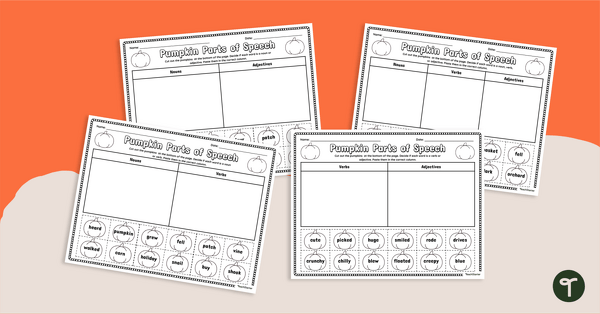 teaching resource
Review three parts of speech by sorting nouns, verbs, and adjectives with these four pumpkin-themed cut-and-paste worksheets.