A set of 12 flashcards to help students recognize common feelings and emotions.
Develop Emotional Literacy Using These Feelings Flashcards
Learning to understand the nuances that define each emotional state, as well as being able to read the facial and body cues that indicate these feelings, is a valuable social-emotional skill for children to develop at an early age. The greater the number of specific words that children can use to describe these feelings, the better equipped they are to express these feelings into adulthood.
This set of 12 flashcards has been designed to help students identify and describe the emotional responses that people may experience in different situations. They include photographs of children expressing the following emotions:
Happy
Sad
Excited
Angry
Frustrated
Nervous
Scared
Surprised
Confused
Annoyed
Bored
Embarrassed
Get More Out of Your Recognizing Feelings Flashcards
A team of dedicated teachers has created this resource for you to use in your Personal, Social and Community Health lessons. There are many ways you can turn these feelings flashcards into an interactive tool to help make your lessons stick with your students!
Label and Annotate Activity
Project a flashcard onto your interactive whiteboard. Have the students name the facial and body cues that help identify how each child is feeling. Use a marker to annotate each flashcard, e.g. on the 'happy' flashcard, you may add an arrow and an annotation to show that the girl is smiling.
Imitate the Face
Show the class a flashcard, then have the students imitate the face shown. Discuss the facial and body cues used by the students when creating their imitations.
Guess the Feeling
Use the feelings flashcards to play a class game of Celebrity Head. A student is assigned a feeling flashcard, but they cannot see what it is. Asking yes or no questions, they must try and identify the feeling that has been assigned to them.
Easily Prepare This Resource for Your Students
This resource prints as a full color PDF. It is suggested that you print on cardboard for added durability and longevity.
NEXT: Printable Resource to Help Students Verbalize Feelings
---
While you are here, why not access some of our other fantastic resources to develop your students' emotional intelligence: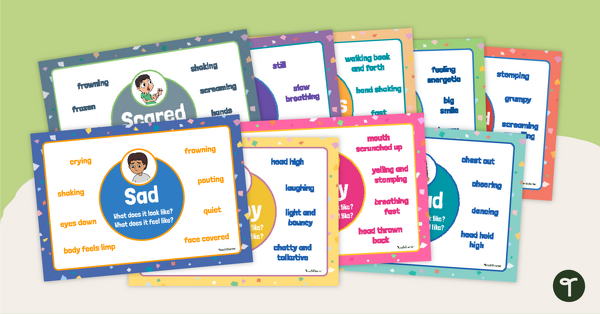 teaching resource
Learn the facial expressions and body cues that accompany the most common emotional states with this poster set.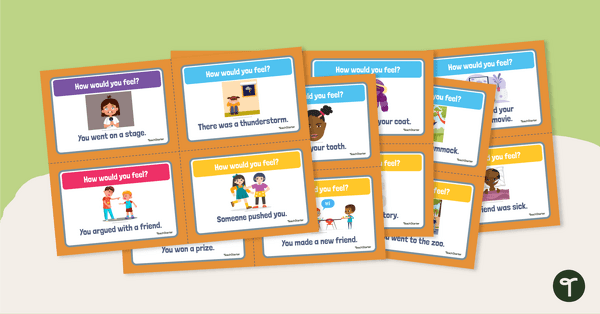 teaching resource
Develop your students' emotional vocabulary with this set of real-life scenarios.