Bring a bit of fall into the classroom with an interactive Pumpkin Patch rhyming word game for Preschool and Kindergarten.
Visit the Pumpkin Patch to Find the Rhyme!
Are you looking to bring a broader range of fall activities into your October lesson plans? We've got you covered with a fun game to practice finding rhyming words for kindergarten. This resource is a pumpkin-themed rhyming word interactive game.
Play our Rhyming Word Game
This game is one that's easy to pick up but hard to put down.
It's simple: Download the Google Slides file and open it in Presentation mode on your computer. Project the first slide on the board and get your students ready to play. You can have one student come up to interact with the slides at a time or let them work in teams.
How to Play Find the Rhyme!
Say each word.
Listen to the ending sound of each word.
If both words have the same ending sounds, they rhyme.
If the words rhyme, click on the pumpkin with the green check mark.
If the words do not rhyme, click on the pumpkin with the red "X" mark.
Correct answers take the students to the next question in the sequence, while incorrect answers trigger a friendly scarecrow to remind them to try again!
With this resource download, students will celebrate fall and develop skills in identifying rhyming and non-rhyming words.
Easily Prepare This Resource for Your Students
Use the Download button to download the Google Slides version of this resource.
Make sure you stop by the collections to find more resources with rhyming words for kids!
---
This resource was created by Lisamarie Del Valle, a teacher in Florida and a Teach Starter collaborator.
Don't stop there! We've got more fall craft activities, worksheets, and resources that cut down on lesson planning time: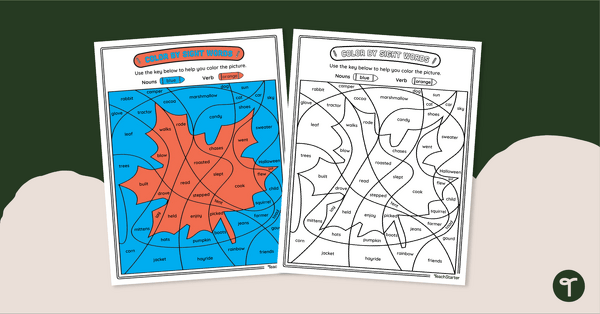 teaching resource
Use this fall color by part of speech worksheet to review nouns and verbs.
teaching resource
Use this color by part of speech worksheet as a fun fall activity with your students.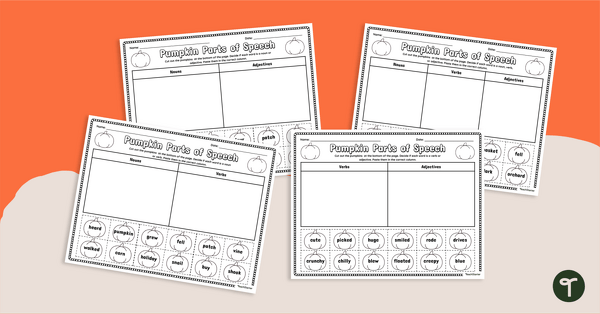 teaching resource
Review three parts of speech by sorting nouns, verbs, and adjectives with these four pumpkin-themed cut-and-paste worksheets.