Practice recognizing and using prepositions with this set of 28 picture-word preposition dominoes.
In, out, above, near, through…
If you need to describe where a person, place, or thing is related to its location, knowing how to use prepositions is vital!  
Practice With Prepositions
This activity shows that students can identify frequently occurring prepositions, understand their meaning, and use them correctly. 
To play, students will shuffle the domino cards and divide them equally among players. One player lays a domino down the middle of the playing area. Students take turns matching either end of the dominoes with the words and pictures that fit the sequence. Gameplay continues in this manner until someone lays down their last domino, making them the winner. 
An answer key is included with your download for students to self-check their work. 
The prepositions students will explore in this activity are:
Scaffolding + Extension Tips 
Challenge students who already understand the concept to act out the preposition.
Support students who need help with a visual reference, like a poster or anchor chart explaining what a preposition is, with examples. 
Get our 10 Best Scaffolding Strategies here! 
Turn This Prepositions Practice Into More Activities
Download this resource for an additional fast finisher activity in your writing center. 
We also suggest using it with your guided writing group and whole class for scoot activities, lesson reviews, and other formative assessments, like these:
👯‍♀️ Odd Man Out
Place three cards at each station, making sure two cards form a matching preposition set, and the 3rd card doesn't belong. Student pairs will rotate through each station and identify the matching preposition picture and word, writing their answers for each station on a separate sheet of paper. 
🔗 Chain Scoot Activity
Provide each student in your class with a domino. Challenge the students to find both of their other halves, creating one long chain of dominoes. For an extra challenge, ask the students to complete the task in silence!
🔔 Bell Ringer Activity
Leave the cards in a pile, and instruct students to grab one as soon as they enter the classroom. On a piece of paper, have students identify both prepositions on either side of the domino by writing the word in the picture, and drawing a picture for the word.
Easily Prepare This Resource for Your Students
Print on cardstock for added durability and longevity. Place all pieces in a folder or large envelope for easy access. 
Before You Download
Use the dropdown icon on the Download button to choose between the PDF or Google Slides version of this resource. An answer key is also included with this download.
---
This resource was created by Lindsey Phillips, a teacher in Michigan and Teach Starter Collaborator. 
Make prepositions a regular part of your students' literacy exploration with these activities: 
teaching resource
Practice prepositions with our 2-page worksheet that prompts students to identify and use prepositions in sentences.
teaching resource
Practice recognizing and using prepositions with our game board with a set of 20 preposition cards.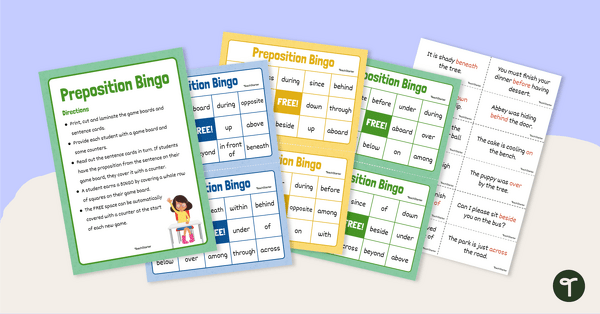 teaching resource
Thirty-two preposition bingo cards with sentences.