Help children grasp the tricky concept of pluralizing nouns by displaying these 8 plural noun anchor chart posters.
Are Your Students Plural Noun Rule Breakers? 
Everyone says that some rules are meant to be broken, and that may be true. However, there are also rules that should never be broken, and one of those rules applies to working with plural nouns.
Young writers and English Language Learners experience great difficulty in determining the correct plural form to use in their writing. This set of plural noun anchor charts contains eight posters that highlight the rules for pluralizing the following:
Common

nouns

 

Nouns ending in s, x, z, ch, and sh 

Nouns ending in y 

Nouns ending in vowel + y 

Nouns ending in f or fe 

Nouns ending in consonant + o 

Irregular plural nouns 
The visuals and examples on these printable Plural Noun Posters will also aid your learners in: 
Writing complete sentences

Developing sentence structure

Grade level

spelling
And more!  
How to Make the Most of Your Plural Noun Rules Posters
Print the posters and display them in your classroom for students to reference when doing independent work.

Print the posters on letter-size paper, slip them into a clear sleeve and use them in your guided groups as a reminder.

Print the posters on letter-size paper, slide them into a clear sleeve and hang them on a ring as a reference tool for a learning center. 

Print the posters in a smaller scale (4-6 per sheet) and have students insert them into their reference folders or interactive notebooks.
We've also come up with bonus ways to turn posters into interactive tools that really make your lessons stick! 
📂 Place copies in students' homework folders for reference. 
💻 Provide posters as digital resources for virtual students. 
🧠 Test students' memories by showing them the poster, then hiding it and having them tell you what they remember.
✅ Incorporate posters into your lesson wrap-up: students write on a sticky note what they learned from the lesson and place it on the poster. 
Before You Download
This resource prints as a PDF. Please use the dropdown menu to choose between the full-color or black and white versions.
Fill your classroom with more posters and interactive displays!
---
Spend more time lesson-doing and less time lesson-planning when you grab these activities and teaching resources too!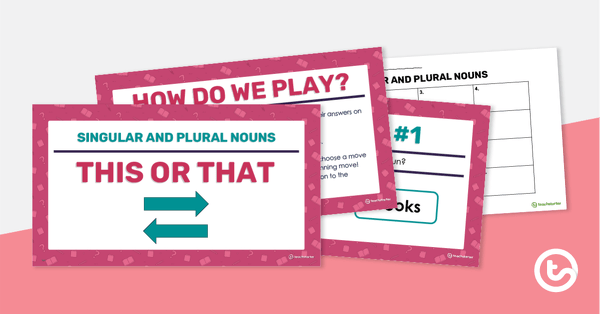 teaching resource
An active PowerPoint game to practice working with singular and plural nouns.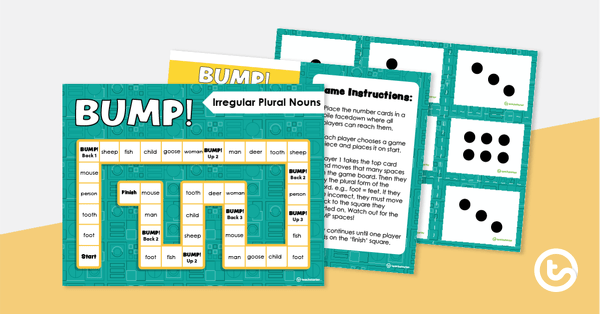 teaching resource
A board game to practice forming irregular plural nouns.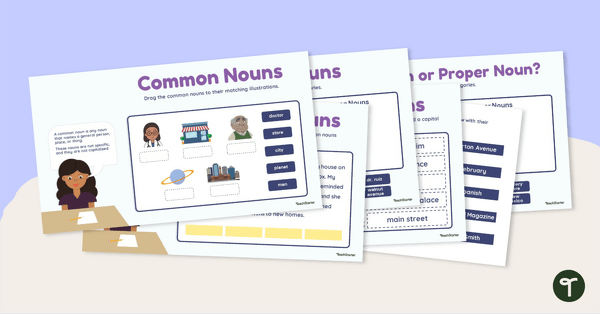 teaching resource
Identify common and proper nouns by sorting words in their context.