Help your first graders learn how to write an opinion piece using these handy writing prompt worksheets.
Opinion Writing for 1st Graders – Writing Prompt Worksheet Bundle
Do you need opinion writing ideas for first graders? Do you struggle with how to teach opinion writing at the primary level? If so, this resource may be the tool you need to guide your students into becoming opinion writing superstars!
Each worksheet included in this resource provides the student with a thought-provoking question and accompanying visual reference. Students will form their own opinions on the topics, and use the primary-style writing lines to develop their own piece of quality opinion writing. The resource includes engaging opinion prompts such as:
Which dessert tastes the best? Cupcakes or Ice Cream?

Which holiday is more fun? Halloween or Christmas?

Which season of the year is the best? Summer or Winter?

Are spiders or snakes the creepiest animals? 
The resource includes ten different worksheets covering ten different opinion writing topics for kindergarten, first grade, and possibly even second grade students. Simply print the sheet you need, and you're off on the journey to amazing opinion writing samples. It is also available in an Interactive Google Slides format, allowing digital learners to participate as well.
Tips for Differentiation + Scaffolding 
In addition to independent student work time, use this worksheet as an activity for:
Formative Assessment

Homework assignment
To challenge students needing acceleration, have them extend their writing into a multi-paragraph piece using our Opinion Text Planning Template.
For struggling readers and writers, provide sentence frames for students to build their sentences off of. They could also benefit from talking about their writing before beginning, and generating a bank of words or details that they could include.
Easily Download & Print
Use the dropdown icon on the Download button to choose between the Color PDF, Blackline PDF, or Interactive Google Slides Version.
To save paper, we suggest trying out the Google Slides Interactive version and allow your students to type their opinion paragraphs.
Additionally, project the worksheet onto a screen and work through one prompt as a classand have your students write their answers in their notebooks. 
Get more worksheets to have handy!
---
Don't stop there! We've got more activities to shorten your lesson planning time: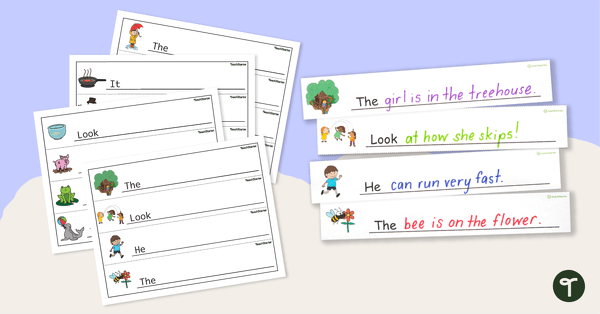 teaching resource
Practice writing simple sentences with these 16 sentence starter task cards.
teaching resource
A set of 10 cut and paste worksheets for making short sentences.
teaching resource
A hands-on sorting activity to use when introducing students to opinion pieces.