A brain-bending PowerPoint where students use logic to solve the mystery.
This teaching resource can be used as a fun whole-class activity in the days leading up to Halloween. It works beautifully as a brain break activity or even a fun indoor recess activity.
Who scared the black cat? Was it the spider? Or perhaps that vampire bat! Watch out for the red herring!
View the presentation in 'Slide Show' mode to allow the interactive buttons and animations to function correctly. Then, read the statements made by each character (and don't forget the 'Cold Hard Facts') to figure out who did it!
The answers are provided at the end of the slideshow.
You can find the paper-based version of this mini-mystery here: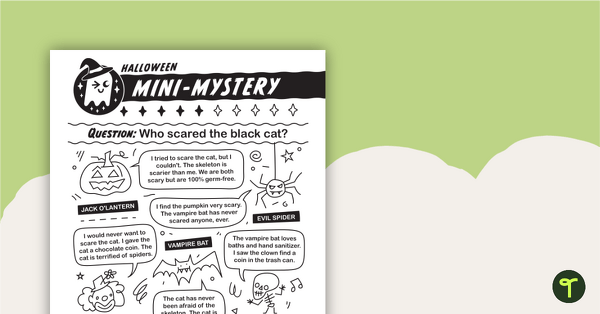 teaching resource
A logic-based Halloween-themed puzzle where students solve a mystery by reading clues.