Teach your students how to make a timeline with a Create a Timeline Project.
Making a Timeline Can be Fun!
Interpreting and constructing timelines enhances your student's comprehension of the order of given events. It also helps them know whether specific events deserve any emphasis based on their importance within history and literature. Understanding timelines will even come in handy later when students start organizing their own days! 
Print Your Make a Timeline Project
Get ready to guide your students through the process of making a personal timeline. Add this timeline activity to your reading center, use it with your social studies group or with your whole class to practice building a timeline using given events.
Materials: 
Timeline Project Summary

Personal Timeline Project Rubric

Timeline Planning Graphic Organizer

Personal Timeline Template
Students will brainstorm important dates and events from their past. Then, they will find photographs or draw pictures of the events. To complete their timeline, students will assemble it, fill in their important dates/events, and add their photographs or drawings. 
More Uses for This Timeline Activity
This resource can be used as independent practice for fast finishers and for full-class learning demonstrations of learning.
Before You Download
Use the drop-down icon on the Download button to choose between the PDF or Google Slides version of this resource. 3 answer keys are also included with this download.
---
This resource was created by Lindsey Phillips, a teacher in Michigan and Teach Starter Collaborator.
Check Out These Creative Timeline Ideas!
teaching resource
A set of 2 worksheets to use in the classroom when learning about families.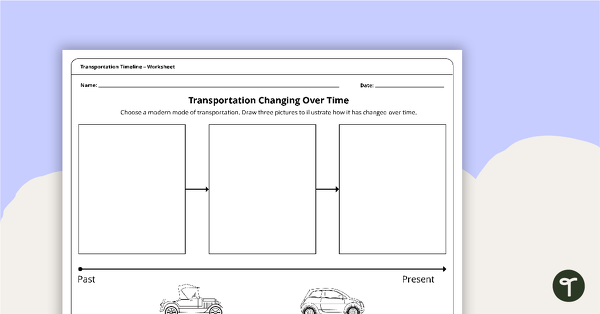 teaching resource
A worksheet for students to illustrate how transportation has changed over time.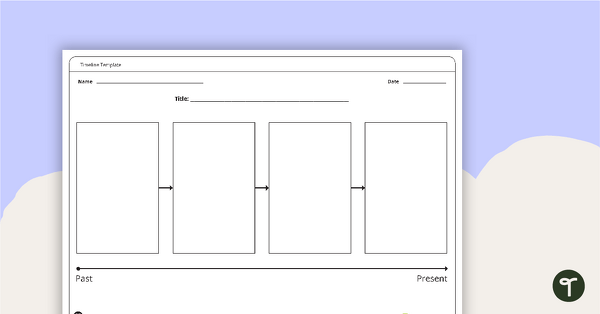 teaching resource
A blank editable timeline template to use as a recording worksheet in history lessons.