Investigate chemical reactions with this hands-on experiment booklet.
🥚How to Make an Eggshell Disappear — Investigation Booklet
Use this experiment booklet to support your science lesson. This resource can be used to guide your students through a fun experiment they can even try at home with their families. In this science experiment, students learn about the chemical reactions when combining an eggshell and vinegar.
Students will work through the booklet and complete a simple experiment. After following the investigation steps, students will draw and label a diagram showing their observations. In addition, students are given an opportunity to predict what will happen when certain elements are changed.  
Through this activity, students will show how they can analyze, evaluate, and critique scientific explanations by using experimental and observational testing.
This is a great Easter-time science lesson that makes use of all those eggs!
Tips for Differentiation + Scaffolding 
A team of dedicated, experienced educators created this resource to support your science lessons. 
In addition to individual student work time, use this science experiment to enhance learning through guided science groups, whole class lessons, or remote learning assignments. 
If you have a mixture of above and below-level learners, check out these suggestions for keeping students on track with the concepts: 
🆘 Support Struggling Students
Help students who need help understanding the concepts by completing the activity with teacher guidance or encouraging collaboration with a partner. Additionally, provide access to previous assignments, as well as posters and anchor charts for students to recall past lessons.
➕ Challenge Fast Finishers
Encourage students to predict what will happen if different liquids or objects are used 
            to complete the experiment.
Plan lessons for all ability levels with our 10 Best Scaffolding Strategies! 
Easily Prepare This Resource for Your Students
Use the Download button to choose between the color or black and white version of this resource. 
🖨️ When printing, print double-sided and flip on the short edge for proper alignment.
Assemble the two pages on top of each other and folder over the middle to create the book. 
---
Don't stop there! We've got more activities and resources that cut down on lesson planning time: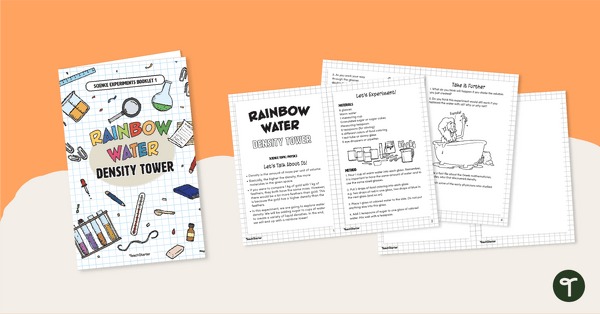 teaching resource
A fun science experiment about density and physics.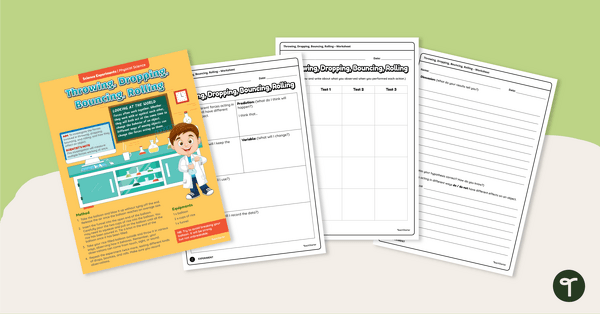 teaching resource
A science experiment which investigates the relationship between multiple forces acting on a single object in various ways.