Identify pictured nouns as a person, place, thing, or animal on this delightful board game adventure.
Help students master the different items that make up nouns (people, places, things, and animals) as they reach the lucky pot of gold! 🌈✨ 
To play our Lucky Nouns Game, students will spin to identify the noun category and move to the next picture that represents that noun on the game board.
Identify Persons, Places, Things & Animals in This Noun Exercise
Use this resource in your writing center or as a class exercise (see below) to practice recognizing and using nouns by person, place, thing, or animal. It's also a great resource to use around St. Patrick's Day. 
Players take turns using a spinner to identify the noun. They will look at the game board to find the next picture that represents that noun. If the remaining pictures do not match, that player loses their turn. Play continues until one player lands on FINISH!
Scaffolding and Extension Tips + More Practice with Noun Activities
Challenge students who already understand the concept to explain how they know the noun category matches the picture they moved to. 
Students can also practice writing the names of the words they know (cat, flower, etc.) on a separate piece of paper. 
Support students who need help understanding the concepts by encouraging them to use a visual reminder of the categories of nouns, such as a poster or anchor chart.
Use this resource as independent practice for fast finishers, and full-class learning opportunities like lesson reviews, formative assessments, and more.
Charades
Use the spaces on the board as charades prompts. Divide your class or small group into 2 teams. Teams will take turns sending up 1 student to use the spinner and move to a space. Each player gets 1 minute to get their team to guess the noun they landed on to stay on the space, or they have to go back to where they started. Whichever team gets to the pot of gold first wins! 
Show Me!
Give each student a mini dry-erase board and a dry-erase marker. Project the game board and use the spinner to move to a spot on the board. Use the Random Name Picker widget to select a student to tell you whether it's a person, place, thing, or animal and which space on the board to move to. Then, have the students spell the word in the image on their whiteboard. When everyone has written down their answer, say, "Show Me." Students will flip their boards, allowing you to see who needs extra support.
Knock Off
Have your students stand up and make a line across the room. Project the game board on your screen. Use our Random Name Picker widget to draw a student's name. Spin for them, and have them tell you which image and on the board to move to that matches the noun type they landed on. If they get it correct, they tap the person either to their left or right with their elbow. The person who is tapped must return to their seat. If the student can't answer, they must sit out. Play continues until only 1 student is standing.
Get our 10 Best Scaffolding Strategies here! 
Easily Prepare This St. Patrick's Day Activity for Your Students
Print on cardstock for added durability and longevity. Place all pieces in a folder or large envelope for easy access. 
Before You Download
Use the dropdown icon on the Download button to choose between the PDF or Google Slides version of this resource.
---
This resource was created by Lindsey Phillips, a teacher in Michigan and a Teach Starter Collaborator. 
Not just nouns—we've got more parts of speech activities to make your language arts lessons fun and engaging!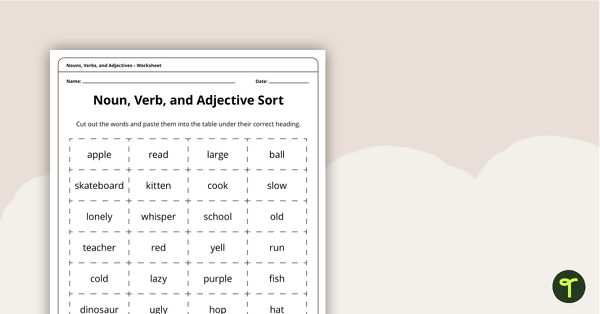 teaching resource
Help students learn the difference between nouns, verbs, and adjectives with this cut-and-paste sorting worksheet.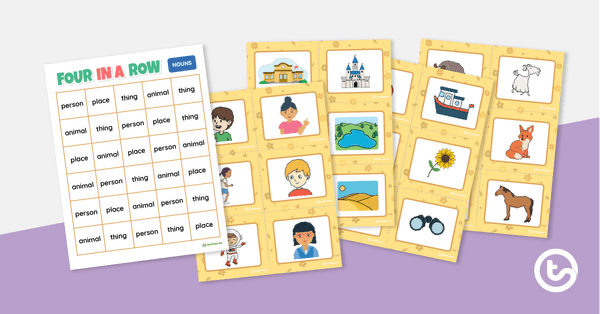 teaching resource
Develop noun recognition with this set of 28 noun picture cards that students will identify to get 4 in a row.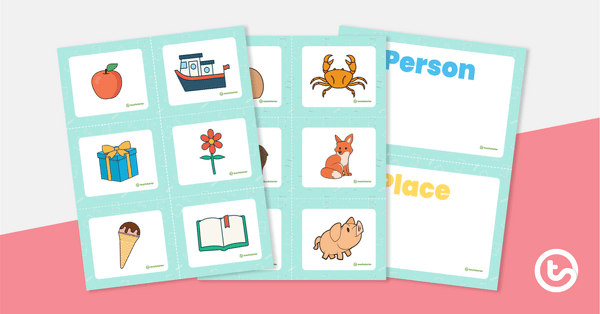 teaching resource
Practice recognizing and using nouns by sorting 24 picture cards into categories.