Practice identifying living and nonliving things with this color by code worksheet.
Living or Nonliving Worksheet
Are your students learning about living and nonliving things? What does that mean exactly? Something that is living means that it grows and develops, uses energy, is made of cells, and needs food/nutrients in order to survive. 
With this worksheet, students will look at various pictures and determine which are living and nonliving. Encourage the students to follow the color key by coloring the living things blue and the nonliving things orange.
Through this activity, students will show they can classify living and nonliving things based on whether they have basic needs and produce offspring.
An answer key is included with your download to make grading fast and easy!  
Tips for Differentiation + Scaffolding 
In addition to independent student work time, use this worksheet as an activity for:
Guided science groups

Lesson warm-up

Homework assignment

Whole-class review (via smartboard)
If students are up for a challenge, encourage them to draw different living and nonliving things on the back of their worksheet.
For students who may need a bit of support, ask guiding questions such as, "Does it need food to live?" for each picture. Additionally, invite students to reference posters and anchor charts to help them determine if each picture is living or nonliving. 
Easily Download & Print
Use the dropdown icon on the Download button to choose between the PDF or editable Google Slides version of this resource. 
Because this resource includes an answer sheet, we recommend you print one copy of the entire file. Then, make photocopies of the blank worksheet for students to complete. 
Turn this teaching resource into a sustainable activity by printing on cardstock and slipping it into a dry-erase sleeve. Students can record their answers with a whiteboard marker, then erase and reuse them. 
Get more worksheets to have handy!
---
Don't stop there! We've got more activities to shorten your lesson planning time: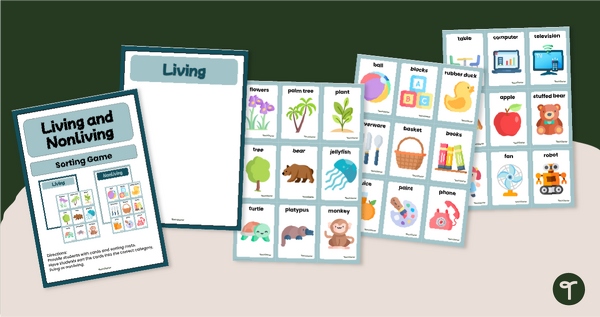 teaching resource
Sort 32 picture cards by whether they are living or nonliving things.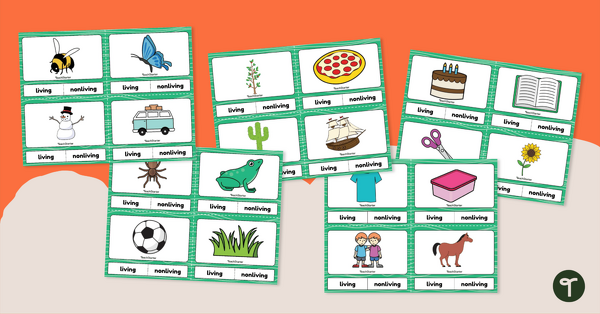 teaching resource
Differentiate between living and nonliving things with this set of 24 clip cards.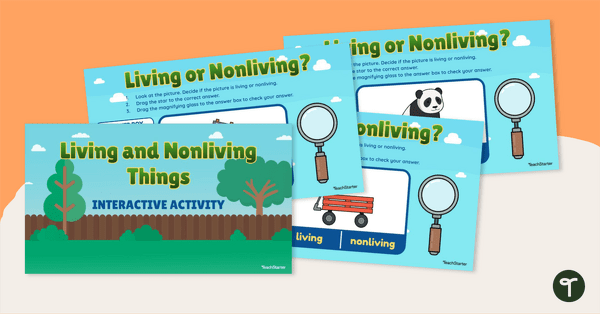 teaching resource
Identify living and nonliving things with this self-checking interactive activity.