Build letter recognition and highlight the letter of the week with a set of printable alphabet hats.
Letter of the Week – Printable Alphabet Hats
Are you looking for new and fresh ideas for your Letter of the Week or letter-recognition activities for your kindergarteners? Are you tired of the same old boring worksheets and alphabet activities? We've got you covered with a new and fun set of alphabet crowns sure to excite your students and make those letter names and sounds stick.
This resource download features 26 printable crown craft templates, each featuring one letter of the alphabet from A to Z. On each page, students are shown six images and must choose the four images that begin with the same letter as their hat and color them in. Once complete, students will cut out the images and paste them onto their Letter of the Day hat, displaying that they know the letter name and sound of the week. 
Once everyone has completed identifying the images with the correct letter sound, they will cut out the letter hat craft in its entirety. Then, simply staple a strip of paper on each side of the hat. Measure the strips to fit the student's head, trim off the excess, and staple them together to complete a fun alphabet crown to wear for the day or week.
✂️ Give Them the (Safety) Scissors 
This template makes for a bonus cutting skills activity, depending on your students' ages and abilities. 
With adult supervision, cutting skills help students work multiple muscle groups and their brains, plus:
Strengthen finger and hand muscles

Build dexterity and fine motor skills

Improve hand-eye coordination

Develop focus and attention. These skills are necessary to use a pencil and a fork, button a shirt, and tie shoes; write, type and swipe.
Scissor skills are brain and muscle skills! 
Download & Print — It's Child's Play! 
Use the dropdown menu on the download button to choose between the editable Google Slides version and the PDF version of the resource. Print, copy, and go!
NEXT: Find Even More Sound and Letter Art Ideas!
---
While you're here, check out more activities and teaching resources that fill your lesson plans and students' brains:
teaching resource
A set of handwriting worksheets to help primary students practice proper letter formation.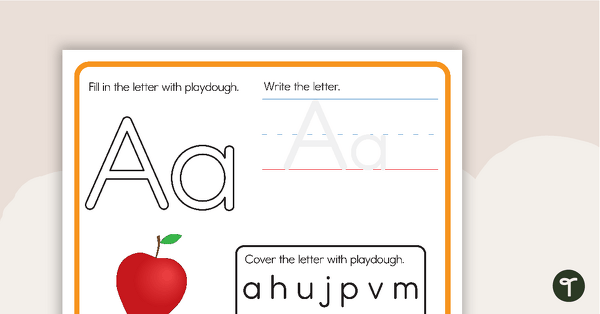 teaching resource
A set of work mats for students to write and form the letters of the alphabet using playdough.
teaching resource
A cute way to keep track of the single sounds that have been introduced to your students.