Boost reading comprehension with our 2-page writing worksheet that helps students practice making inferences.
Using this worksheet, students will build their inferencing skills—in other words, they'll draw conclusions by decoding the context clues in 6 sample texts. 
This worksheet is best used as independent practice as part of your Reading Comprehension Strategies Lesson. It can also be completed with a guided small group, done as a whole class activity by projecting the worksheet via smartboard, or turned into a reading station activity. 
Get More Use Out of Drawing Inferences Worksheet 
Got fast finishers or students who need more practice? Here are a few ideas to help you change the difficulty level of this worksheet. 
Going Deeper with Inference Practice
On the back of the worksheet, ask students to brainstorm and write 1-3 scenarios. Then, have them swap papers with a classmate to make inferences. Writing can also be done in peer pairs. 
Scaffolding for Struggling Students
Pair up students to work together on thinking through the given scenarios and writing their inferences.
Easily Prepare This Resource for Your Students
Because students' answers will vary based on their interpretation of the text, an answer sheet is not included with this download. 
Please note you can make this worksheet more sustainable by adding it to your classroom reading center. Print a few copies on cardstock and slip them into dry-erase sleeves. Students can record their answers with a dry-erase marker, then erase and reuse. 
Before You Download
Use the drop-down icon on the Download button to choose between the PDF or Google Slides version of this resource. 
---
This resource was created by Kelli Goffredi, a teacher in Texas and a Teach Starter Collaborator. 
Why stop there? If you're looking for more reading comprehension and inference activities, games, worksheets, and more, check these out!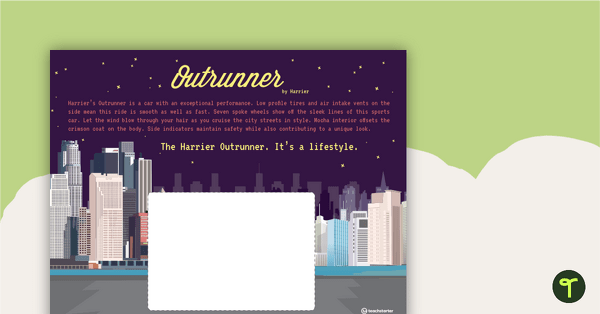 teaching resource
A series of car classifieds worksheets to use when teaching your students how to to make inferences when reading.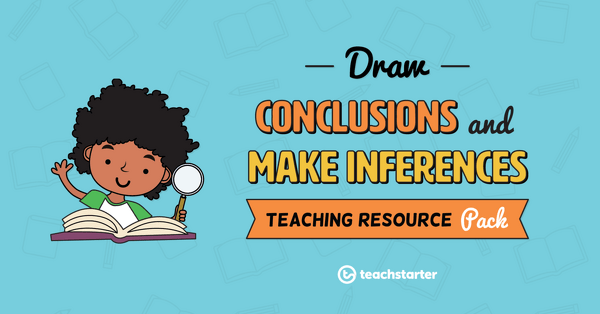 resource pack
A comprehensive resource pack helping students draw conclusions and make inferences.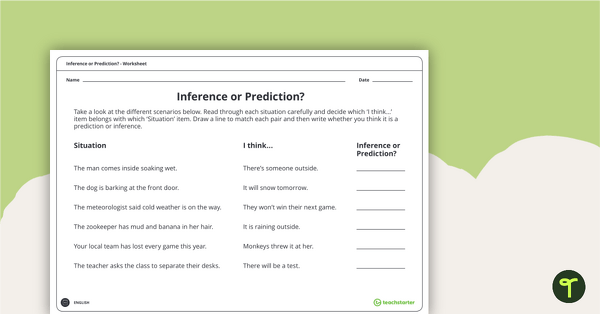 teaching resource
A worksheet to use when teaching your students the difference between an inference and a prediction.