Display this poster showcasing interesting insect facts and characteristics in your classroom.
🪲 Interesting Insect Facts  
What are some special adaptations that insects have? How are these unique features important for their survival? If your students are learning about animal characteristics in science class, this poster can be the perfect addition to your organisms and environment unit. This colorful poster highlights unique adaptations of insects such as:
Antennae

Exoskeleton

Ability to camouflage

Compound eyes

Strength

Body parts adapted for water
How to Make the Most of Your Insect Characteristics Poster
Print the poster and display it in your classroom for students to reference when doing independent work.

Print the poster on letter-size paper, slip it into a clear sleeve, and use it in your guided groups as a reminder.

Print the poster on letter-size paper, slide it into a clear sleeve, and hang it on a ring as a reference tool for a learning center. 
We've also come up with bonus ways to turn posters into interactive tools that really make your lessons stick! 
📂 Place copies in students' homework folders for reference. 
💻 Provide posters as digital resources for virtual students. 
🧠 Test students' memories by showing them the poster, then hiding it and having them tell you what they remember.
✅ Incorporate posters into your lesson wrap-up: students write on a sticky note what they learned from the lesson and place it on the poster. 
Before You Download
This resource prints as a color PDF. 
Fill your classroom with more posters and interactive displays!
---
Spend more time lesson-doing and less time lesson-planning when you grab these activities and teaching resources too!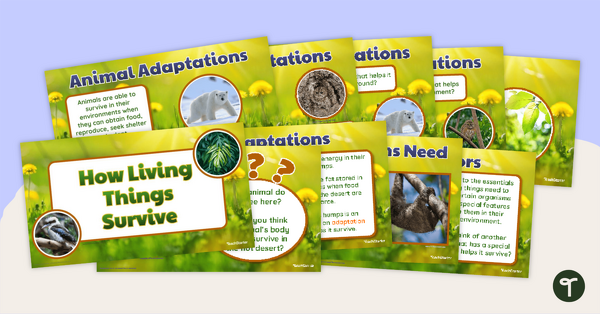 teaching resource
Use this 13-slide teaching presentation to teach your students about the physical characteristics of animals and plants, which help them meet their basic needs.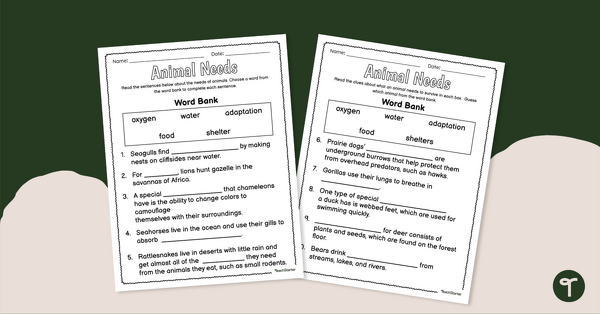 teaching resource
Practice and review vocabulary associated with basic animal needs with this worksheet.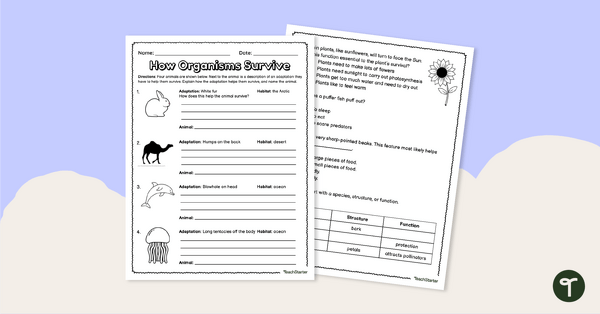 teaching resource
Use this worksheet to identify and describe different animal and plant adaptations which help them survive in their environment.