Sort inner and outer planets with this cut-and-paste science worksheet.
🌎 Looking for Planet Worksheets?
Have your students already learned the names of each planet? Maybe you taught your students a catchy way to remember the order of the planets, such as "My Very Excellent Mother Just Served Us Noodles." If your students are ready to learn another component of space, it may be time to look at inner versus outer planets!
What exactly is an "inner planet"? An inner planet refers to the four planets that orbit within the asteroid belt. These four planets are known as terrestrial planets, or those made of rocks and metal. 
On the contrary, "outer planets" are the four planets that orbit outside of the asteroid belt. These planets are much bigger and are also known as gas giants. 
Teach Starter has created a worksheet where students must determine which planets are considered inner planets and which are considered outer planets. Students will cut out each square with the planet's picture and name and glue it in the correct column.
An answer key is included with your download to make grading fast and easy!  
Tips for Differentiation + Scaffolding 
In addition to independent student work time, use this worksheet as an activity for:
Guided science groups

Lesson warm-up

Homework assignment
For students who need a bit of a challenge, encourage them to write information about each planet on the back of their paper. If students would like to dive further into a particular planet, consider using a book from our Planet Mini-Book Collection.
Invite students who need additional support to reference previous assignments, posters, or anchor charts. Additionally, this activity can be completed in a small group or 1-on-1 setting.
🖨️ Easily Download & Print
Use the dropdown icon on the Download button to choose between the PDF or editable Google Slides version of this resource. 
Because this resource includes an answer sheet, we recommend you print one copy of the entire file. Then, make photocopies of the blank worksheet for students to complete. 
Additionally, project the worksheet onto a screen and work through it as a class by having students record their answers in their notebooks. 
Get more worksheets to have handy!
---
This resource was created by Melissa McLaren, a teacher in Massachusetts and Teach Starter Collaborator.
Don't stop there! We've got more activities to shorten your lesson planning time: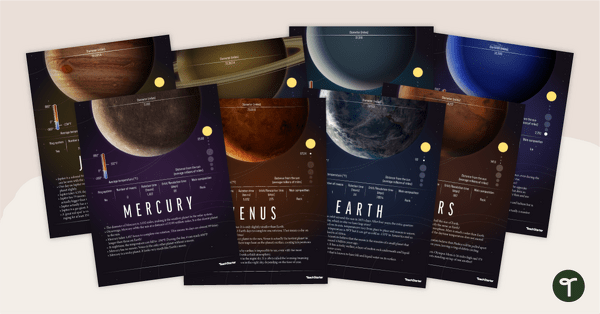 teaching resource
A set of visually striking and informative posters about the planets of our solar system.
teaching resource
Use your knowledge of the solar system to complete 8 different planet puzzles.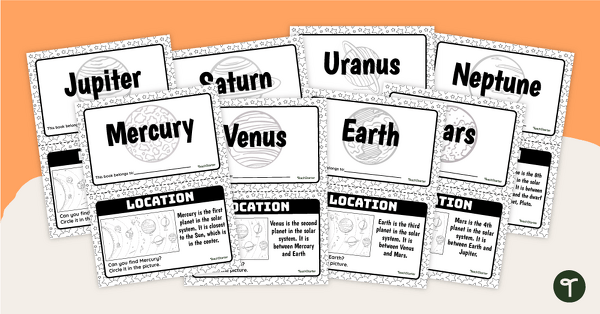 teaching resource
Read and learn about the planets of our solar system with this collection of 8 mini-books.