Uncover facts about Harriet Tubman with a Reading Passage and Comprehension worksheet.
Harriet Tubman for Kids – Reading Comprehension Activity
With the help of a lantern, Harriet Tubman led raids that freed hundreds of enslaved people. She then challenged those who used their power over others to make a change in their own lives. 
This reading passage and accompanying comprehension worksheet will be sure to engage your students in learning about this incredible woman's life story! They will journey across the country with Harriet, listen to her stories, and come away with a deeper understanding of her critical role as an abolitionist.
An answer key is included with this resource for easy grading. 
Ways to Use This Printable Harriet Tubman Worksheet
Use this comprehension activity to build a week or more of your Harriet Tubman lesson plans. You could pair this passage with many different activities, including a Harriet Tubman wanted poster or even an in-class Harriet Tubman project.
In addition to being an inspiring historical figure to study during Black History Month and Women's History Month, use this worksheet as a: 
Homework assignment

Whole-class review (via smartboard)
Sustainability Tips: Print on cardstock and slip the pages into dry-erase sleeves. Students can record their answers with a dry-erase marker, then erase and reuse them. You can also project the worksheet and work through it as a class, having students record their answers in their notebooks.
Before You Download
Use the dropdown icon on the Download button to choose between the Google Slides version and the resource's black and white PDF version. 
An answer key is also included with this download.
Get more in our collection of Black History Month teaching resources.»
---
This resource was created by Beth Hindi, a teacher in Texas and a Teach Starter collaborator.
Give your students an enriching learning experience with more activities and lesson-planning tools!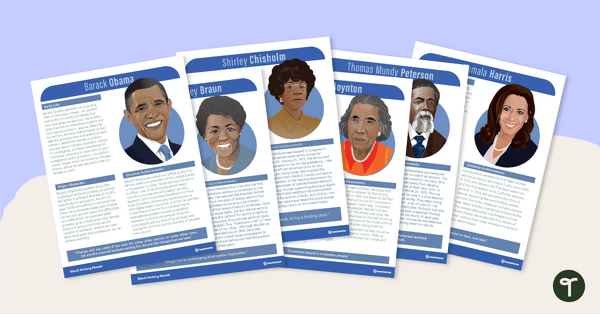 teaching resource
Introduce your students to revered Black icons and the impacts their contributions have made to American history.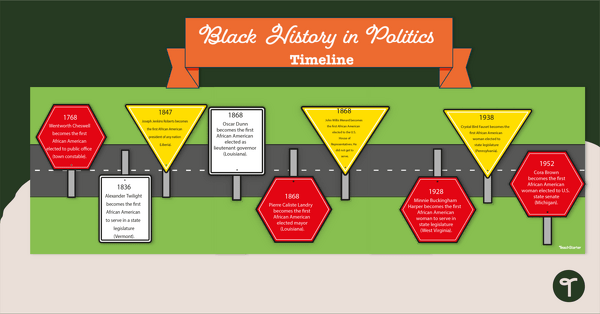 teaching resource
Craft an illustrated timeline for students to explore politically significant moments of the last 3 centuries.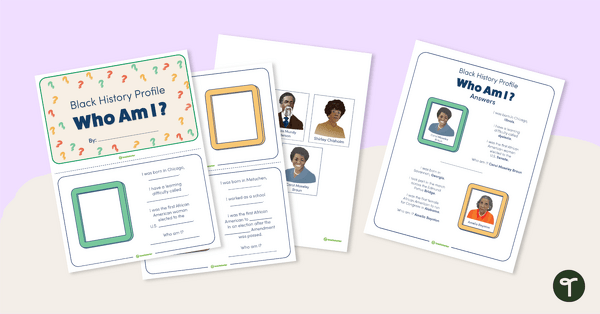 teaching resource
Review and complete the defining details of 6 revered Black icons and match their images with each completed biography.