A large printable coloring sheet for your whole class.
🖍️ Coloring Fun
Use this 8-page giant coloring page to create a whole-class collaborative mural or interactive bulletin board for the classroom!
Print out the tabloid version for a large spread, or alternatively print the letter size page for a single printout for each student.
Lay it out on a communal table or back it with cardboard and mount it on the lower half of a classroom wall for your students to color whenever appropriate. Let your kids go wild with some pencils and crayons and you have yourself a wonderful, color-popping addition to your learning space!
This activity makes a wonderful mindfulness coloring tool or fast finisher activity that students can work on whenever they have free time.
✂️ Instructions for Assembly
Print out the Giant Coloring Sheet one-sided on tabloid paper.
Cut along the DOTTED lines only, starting with page A1. As you progress through each page, align it with the border on the previous page. E.g Page A2 aligns with the border labeled A2 on page A1.
Continue through this process, aligning B1 underneath A1 and so forth until finished.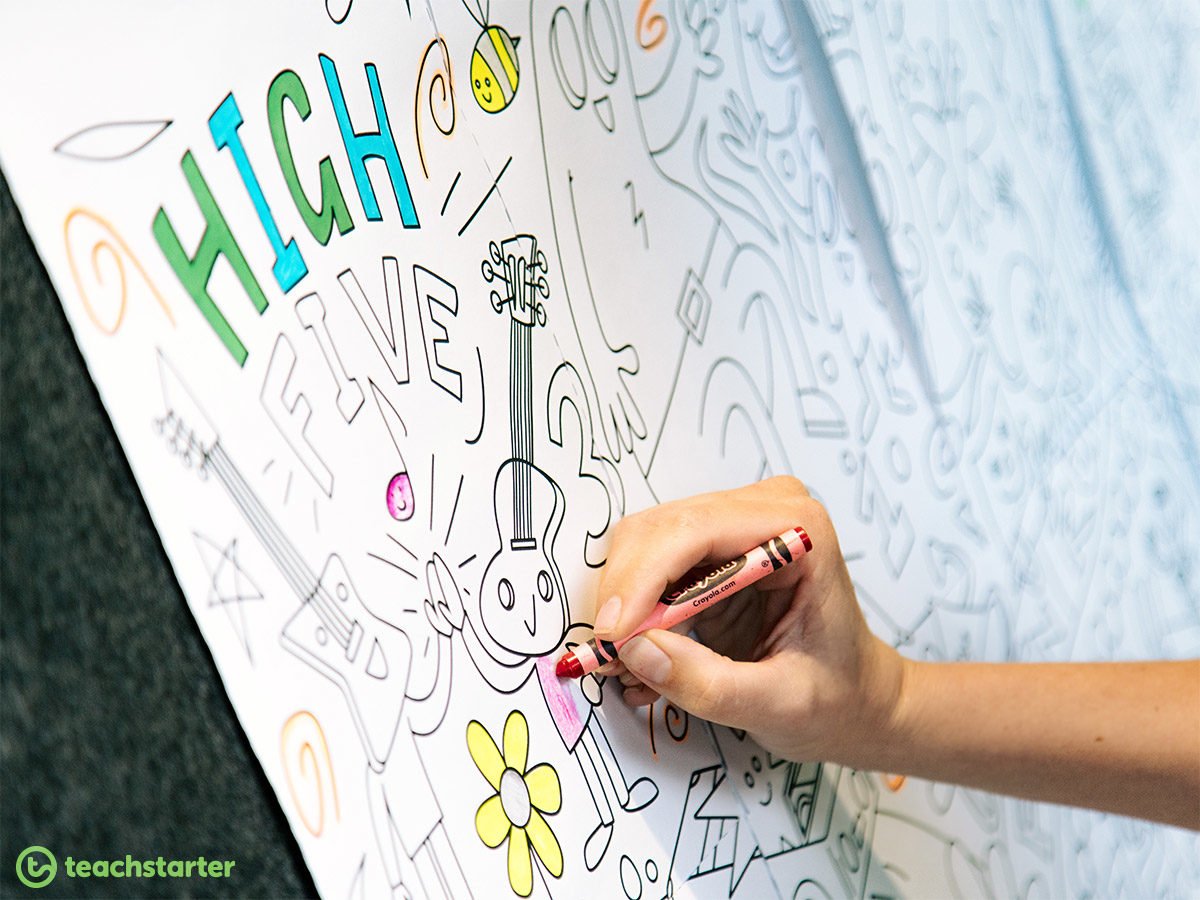 How to Use This Resource in the Classroom
🧘🏽‍♂️ Mindfulness Coloring Activity
Mindful coloring has been proven to reduce stress and anxiety in children (and adults!).
Teacher tip: Have a class discussion before introducing this coloring sheet as a mindfulness tool.
You want your students to understand that everyone colors in their own unique way and they need to be respectful of that. No one gets 'dibs' on any section of the page – if you've started coloring an area but run out of time, then it's ok for someone to take over, and color it in the way they choose. This is what makes resources like this unique and a whole-class project!
🧑🏾‍🤝‍🧑🏽 Group Challenge
If you are wanting to inspire your students to finish their work more quickly as a whole class, why not set a group coloring challenge?
Group your students in groups of 4 or 5.
Print a copy of the Giant Coloring Sheet for each group on letter-size paper.
Each time a member of a group finishes their work early, they get to go over to their designated coloring station to spend a quick 5 minutes on their group spread.
The group that colors in their pages the fastest (and neatest!) gets the prize!
✏️ Drawing Inspiration
Do you have students who are hesitant to participate in drawing activities? They either don't think they're good enough at drawing or can't think of anything to create!
The funky designs on this coloring sheet are not just good for filling with color, they're also great for providing your students with some drawing inspiration!
🧠 Concentration Station
Use this activity as a quick concentration task to get your students back on track after a busy lunch break. Finding little elements in the Giant Coloring Sheet is a great way to help students switch their brains on, and zoom in on the classroom!
Why not ask questions such as:
How many musical instruments are in the picture? Who can name them?
Can you find and color all the numbers?
Which everyday shapes can you see?
How many stars are in this picture?
Name all the verbs you can see in this picture.