A writing checklist for primary students to use across multiple genres.
Use this writing checklist with your students when working on writing a composition in the primary grades.
Give your students a checklist each time you have asked them to write a composition. Or alternatively, print off a set of checklists on cardstock, cut them out, and provide one for each student to use with a dry erase marker. This will allow the checklist to be wiped clean and used over and over.
The checklist has students reviewing their final copy for:
capital letters
finger spaces
punctuation
using the word wall for correct spelling
sounding out new words
neatest handwriting
rereading the text to ensure it makes sense.
This resource also works well when used in a writing center to remind your students of their editing process.
---
This resource was created in conjunction with Kaitlyn Woods.
Use this resource in conjunction with our General Writing Checklist Poster. Click on the link below to download.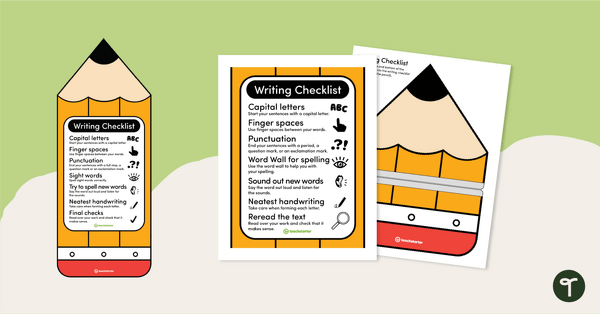 teaching resource
A writing checklist poster to use with your primary students across multiple genres.