Practice decoding words that include 4 examples of consonant digraphs with our digraph flashcards and board game set.
Consonant digraphs (two successive non-vowels combined to form one sound) are found so commonly in the English language that they're a whole subset of your students' phonological awareness lessons. 
In fact, consonant digraphs are so common you'll find 6 out of the 29 words above include them! 😉
All that to say, the ability to identify them and their sound to decode words is essential in building your students' foundational language skills! 
Practice Reading By Decoding Digraphs 
This activity shows that students understand the spelling-sound correspondences for common consonant digraphs at the beginning or end of a word. 
To play, students will choose a card to identify the digraph and look at the game board to find the next picture that includes that digraph at the beginning or end of the word.
The initial and final digraph sounds included in this game:
Scaffolding + Extension Tips 
As an additional challenge, have students name another object that starts or ends with the digraph before moving to the new space.
Support students who need help understanding the concepts with a visual reference, like a poster or anchor chart with consonant digraph examples. 
Get our 10 Best Scaffolding Strategies here! 
Turn This Game Into More Activities for Decoding Digraphs
Download this resource for an additional fast finisher activity in your reading center! 
We also suggest using it with your guided reading group and whole class for scoot activities, lesson reviews, and other formative assessments, like these:
✏️ Write the Room (Scoot Activity)
Hang four sheets of chart paper around the room and hang a consonant digraph at the top of each one. Individually, or with a partner, have students rotate around the room, adding one word that begins with the blend. Project the game board for reference, if needed. Words may be used only once.
🤔 Digraphs Challenge
Change the difficulty level for your guided small group by removing the letter cards. Instead, students will roll a die or spin the included spinner and move that number of spaces on the board. When they land on a space, they must be able to tell you which digraph is in the word to stay there—or go back to their previous space. The first one to the end of the board wins! 
📝 Sentence Practice
Have students keep a pencil and paper nearby. After they move to a space, have the student write the word in a sentence on their paper. If students aren't comfortable with writing sentences, just writing the word down will be great practice for practicing letter- and digraph-sound correspondence. 
Easily Prepare This Resource for Your Students
Print on cardstock for added durability and longevity. Place all pieces in a folder or large envelope for easy access. 
Before You Download
Use the dropdown icon on the Download button to choose between the PDF or Google Slides version of this resource. 
---
This resource was created by Lindsey Phillips, a teacher in Michigan and Teach Starter Collaborator. 
Work digraphs into your language arts lessons and centers with these engaging activities:
teaching resource
A phonics game played in pairs and focusing on the following digraphs: sh, ch, th, ph, bb, and ll.
teaching resource
Practice segmenting and spelling simple words with this set of 24 CVCC picture task cards.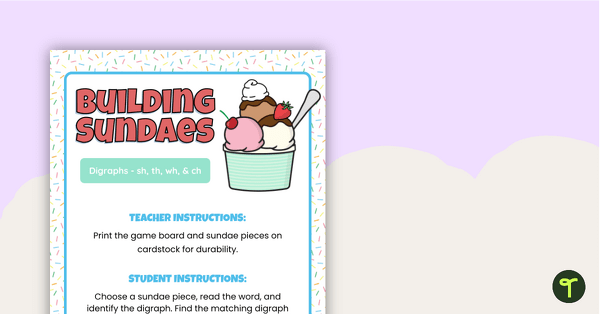 teaching resource
Identify initial and final consonant digraphs with this set of 4 yummy digraph sundaes.