A set of mini letters and envelopes for students to give to their dad or father figure on Father's Day.
Simple Father's Day Craft
Students use the mini letters and envelopes to write five messages to their dad. They can include what they love and appreciate about him, some of their favorite memories they have shared, or anything else they would like to tell him. Then, they cut out the letters and envelopes, fold them up, and seal them with a sticker or a piece of tape. Finally, they leave the special notes around their home for their dad to find throughout the day. What a great treat!
Check out some of our other Father's Day resources!
teaching resource
A template for students to describe the bond they have with their father or a special person in their life.
teaching resource
Print these general greeting cards for students to promote inclusivity in the classroom on Mother's Day and other holidays.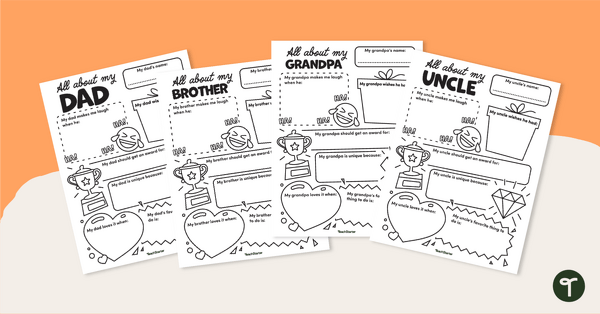 teaching resource
Describe the love for dad/brother/uncle/grandpa with this fill-in-the-boxes worksheet for older students.