Explore the difference between rotation and revolution while learning about the day and night cycle, what causes the seasons to change, and more with this instructional slide deck.
What Is the Difference Between Rotation and Revolution?
Rotation and revolution are two distinct terms that students will encounter as they learn about space and the solar system. Rotation refers to the spinning motion of a celestial body around its own axis. For example, the Earth rotates on its axis once every 24 hours, giving us day and night. Revolution, on the other hand, refers to the orbital motion of one celestial body around another. For example, the Earth revolves around the Sun once every 365.25 days, giving us the seasons.
If you are looking for a ready-to-go slide deck to teach these concepts (and more!) to your students, you have come to the right place. Teach Starter has put together a 17-slide presentation to use during your solar system unit.
With this slide deck, students will learn about the following topics:
What causes the day and night cycle

Earth's rotation and revolution

Earth's axis

Equator

Why seasons change

How the Sun's path changes
Tips for Differentiation + Scaffolding 
A team of dedicated, experienced educators created this resource to support your science lessons. 
If you have a mixture of above and below-level learners, check out these suggestions for keeping students on track with the concepts: 
🆘 Support Struggling Students
Help students who need help understanding the concepts by 
Complete the instructional slides in short, 10-15 minute "chunks" to allow for processing.

Provide students with a printout of the slides to refer to during the lesson.
Make sure to check out additional resources that cover rotation and revolution!
Easily Prepare This Resource for Your Students
Use the Download button to access this resource's editable Google Slides version.
---
This resource was created by Melissa McLaren, a teacher in Massachusetts and a Teach Starter Collaborator. 
Don't stop there! We've got more activities and resources that cut down on lesson planning time: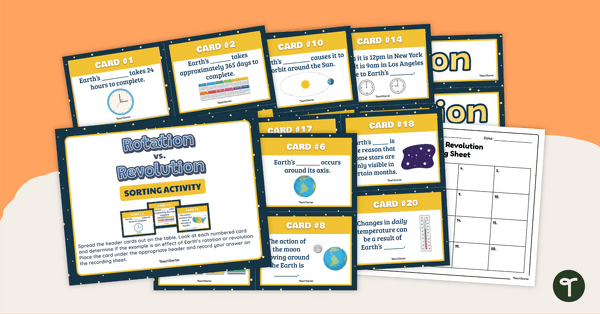 teaching resource
Determine if examples are due to Earth's rotation or revolution with this sorting activity.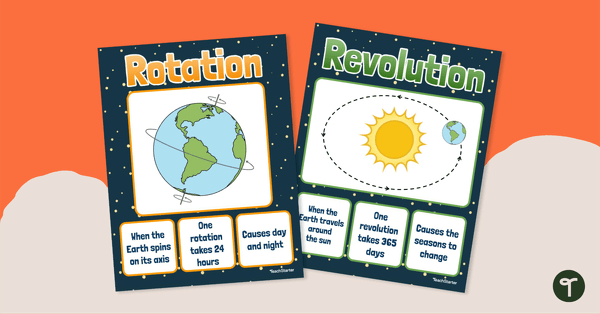 teaching resource
Display information in your classroom about the differences between rotation and revolution with this poster set.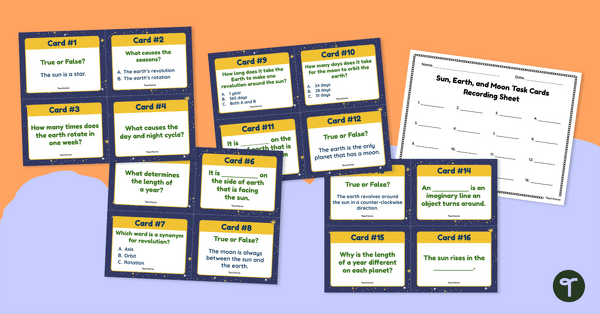 teaching resource
Review information about the Earth, Sun, and Moon with this set of task cards.