Read and sort to help students learn about the structure of a biography with our cut and paste biography worksheet.
👩‍🚀 Organize This Astronaut's Life Events 
In this mixed-up biography of Dr. Mae Jemison, students will read each paragraph and cut them into strips. They'll then organize the writing and glue each piece in the correct section by whether it refers to:
🚀 Who is Dr. Mae Jemison?
🚀 Early Life
🚀 Education
🚀 College & Beyond
🚀 Following Her Dreams
🚀 Life After Space
By completing this activity, students demonstrate an ability to organize writing so that it is appropriate to the purpose and audience.
Scaffolding + Extension Tips 
In addition to individual student work time, use this biography activity as an in-class or homework assignment for:
✂️ Hand Them the Scissors
You don't have to cut these elements yourself. This template makes for a bonus cutting skills activity, depending on your students' abilities. 
Did you know that cutting skills help students work multiple muscle groups and their brains, plus:
Strengthen finger and hand muscles

Build dexterity and fine motor skills

Improve hand-eye coordination

Develop focus and attention
And all of these skills are necessary to use a pencil, a toothbrush, a fork; button a shirt, zip-up pants, tie shoes; write, type, and swipe.
Scissor skills are brain and muscle skills! 
How to Prepare This Resource
Please note that this resource will download as a black and white PDF. An answer key is also included with this download.
Because this activity includes an answer sheet, we suggest printing one copy of the entire activity and making photocopies of the worksheet for students to complete. 
You can also turn this teaching resource into a sustainable activity! Print a copy on cardstock, cut out the strips, and store them along with the sorting mat in a resealable bag or envelope. Then have students place the strips in the appropriate section on the sorting mat, check their answers, shuffle, and place them back in the bag or envelope when they are finished for the next student to use.
NEXT: 9 Wrap Up Activities for Lesson Closure That Work Like a Charm
---
Don't stop there! Your lesson plan wouldn't be complete without these activities and teaching resources too: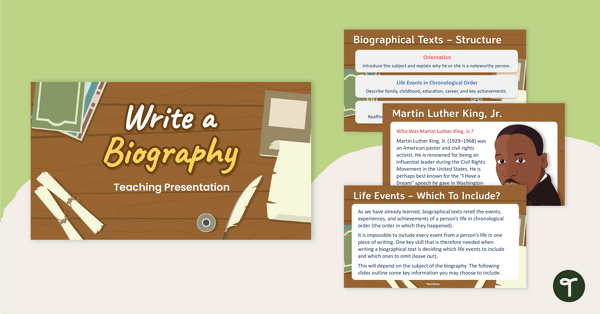 teaching resource
A 29-slide, editable PowerPoint template to use when teaching older students about the structure and language features of biographical texts.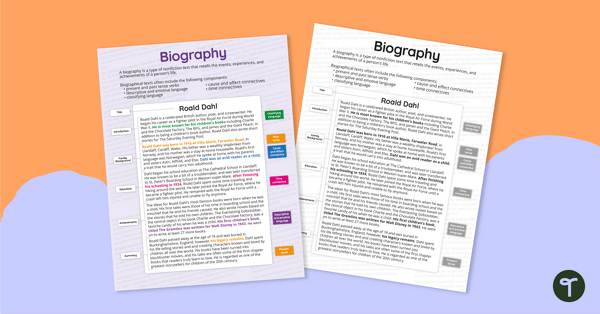 teaching resource
Use this biographical writing poster with annotations to help your students understand how to write an engaging biography.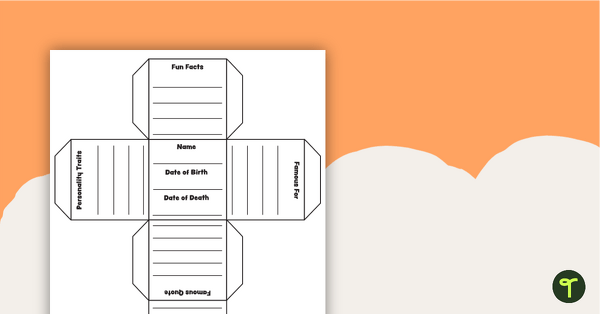 teaching resource
Research and create an interactive biography for a historical figure.