Identify community helpers and the tools they use in different locations around the community with a Google Interactive Activity.
This Google Interactive activity helps students discover the different community helpers who work in specific locations in their community.
Community Helpers Activities for Kindergarten and 1st Grade
With the influx of digital tools into primary grades, teachers need high-quality resources for their students to use in the classroom. Our goal is to create real teacher tools that can be implemented easily, even with primary-aged learners. 
Not only is technology great for literacy and math, but it also boosts engagement in Social Studies. We've created a Google Slides interactive activity to help you teach your kindergarten and first graders all about Community Helpers!
This resource engages your students in identifying and sorting community helpers and the tools they use in different locations around the community. They will uncover these economic concepts in a school, hospital, grocery store, and more! Students will use a drag and drop interface to complete the activity.
Some celebrations you may want to use this community helpers resource for include:
Easily Prepare This Resource for Your Students
Download the Google Slides resource and assign it to Google Classroom. Students will open the file in edit mode in order to complete the activities.
Before You Download
Use the Download button to download the Google Slides version of this resource.
---
This resource was created by Lindsey Phillips, a teacher in Michigan and a Teach Starter Collaborator. 
Before you go, be sure to dig into more social studies activities! Starting with these: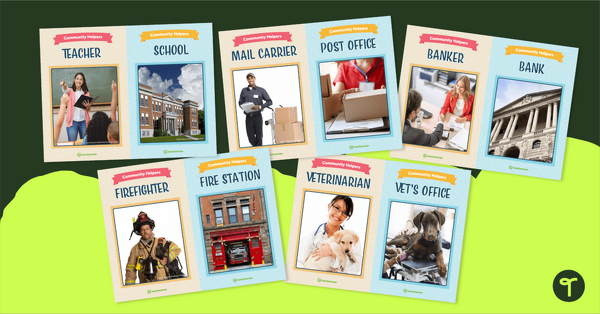 teaching resource
A set of 38 half-size community helpers picture posters showing different community helpers and where they work.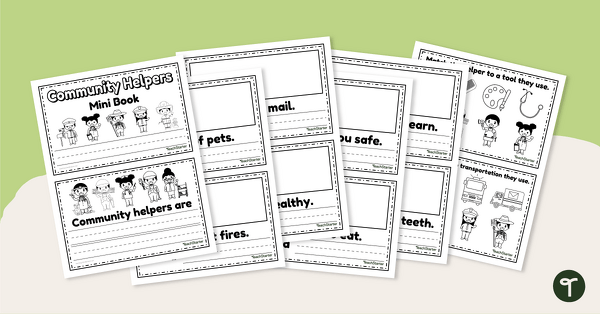 teaching resource
Use this mini-book to review or introduce community workers to your primary grade students.
teaching resource
Practice identifying community workers with a few rounds of Community Helper Bingo!