Kick off Fire Prevention Week this October with a decodable firefighter reading passage and comprehension worksheet.
Kick-off Fire Prevention Week with a Look at Firefighters
Get ready for Fire Safety Week with an introduction to all things fire-related. Start the week with a look into what firefighters do for the community and what they use to do their job. Have students pay attention to detail while reading the decodable text, and then draw and write to demonstrate comprehension.
This activity is designed for kindergarten and first grade students, and it would make an excellent introductory activity for Fire Prevention week. It will also prove useful when teaching your Community Helper unit! 
An answer key is included with your download to make grading fast and easy! 
Tips for Differentiation + Scaffolding 
In addition to independent student work time, use this worksheet as an activity for:
🚀Engage your fast finishers by providing them with additional community helper books to read and enjoy in the classroom.
🆘Differentiate for your struggling readers and writers by completing the activity in a shared reading setting or as an individual reading activity in small groups.
Easily Download & Print
Use the dropdown icon on the Download button to choose between the Color or Blackline PDF or Google Slides version of this resource. 
Turn this teaching resource into a sustainable activity by printing on cardstock and slipping it into a dry-erase sleeve. Students can record their answers with a whiteboard marker, then erase and reuse them. 
Get more worksheets to have handy!
---
Don't stop there! We've got more activities to shorten your lesson planning time:  
teaching resource
A writing activity to help students construct an informative text based on factual information.
teaching resource
Use this thank you for being brave greeting card and letter template on Veterans Day or Fire Prevention Week with your students.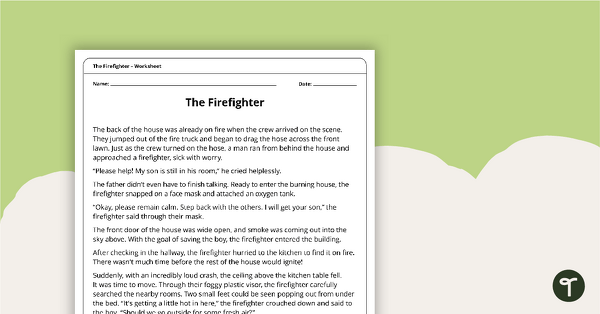 teaching resource
A story and worksheet that explores issues regarding female gender stereotypes.