Create a bulletin board displaying different types of circuits and related vocabulary.
💡Circuits for Kids
If this is the first time your students are learning about different types of circuits, have no fear! This exciting concept is one in which students love to use their hands while building and testing different types of circuits. Teach starter has a bulletin board kit ready to go for you to use with your student when learning about electricity and circuits.
With this bulletin board set, your students will learn about different types of circuits, such as a(n):
Open circuit

Closed circuit

Series circuit

Parallel circuit
Additionally, there are vocabulary cards to display alongside the circuit posters. The words included on the vocabulary cards are:
Wire

Circuit

Battery

Switch

Bulb

Motor
This bulletin board display also comes with a colorful lightbulb banner to use on the top of your board.
How to Display Posters Covering Different Types of Circuits
Print the posters and vocabulary cards and display them in your classroom for students to reference when doing independent work.

Print the posters, slip them into a clear sleeve, and use them in your guided groups as a reminder.

Print the posters, slide them into a clear sleeve, and hang them on a ring as a reference tool for a learning center. 
📝 Create a fill-in-the-blank worksheet by removing selections of text.  
📂 Place copies in students' homework folders for reference. 
💻 Provide posters as digital resources for virtual students. 
🧠 Test students' memories by showing them the poster, then hiding it and having them tell you what they remember.
✅ Incorporate posters into your lesson wrap-up: students write on a sticky note what they learned from the lesson and place it on the poster. 
Before You Download
Use the dropdown icon on the Download button to choose between the PDF or editable Google Slides version of this resource. 
Fill your classroom with more posters and interactive displays!
---
Spend more time lesson-doing and less time lesson-planning when you grab these activities and teaching resources too!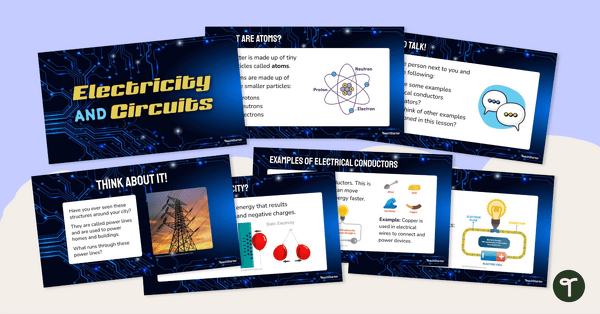 teaching resource
Use our editable instructional slide deck to break down the fundamentals of electricity and circuits for your students.
teaching resource
A set of guided notes to use when teaching about electricity and circuits.
teaching resource
In this simple circuit activity, students will diagram complete and incomplete circuits and explain their function.