Practice decoding and spelling simple words with this set of 24 CCVC picture task cards.
Build Simple Words with Our CCVC Word Mat
Use this resource in your reading center, as a guided reading activity, or a whole class exercise to practice decoding and spelling CCVC words (consonant, consonant, vowel, consonant).
In addition to writing CCVC words, students also get to practice words with initial blends and digraphs like cl, st, dr, sh, and more!  
This activity is split into 5 sections: First, students will choose a CCVC picture card, identify the word and Draw It! Then they'll Build It! by finding the letter cards for each phoneme, and finally Write It! twice by hand. 
Slip the mat into a dry-erase sleeve for durability and sustainability. 
CCVC Words List For This Activity:
clam

clip

crab

crib

crow

drip

drum

flag

flat

frog

plug

plum

ship

shop

sled

slug

snow

star

stem

stop

swan

swim

trap

twig
Scaffolding and Extension Tips + More CCVC Word Activities
Challenge students who already understand the concept to produce rhyming words for each CCVC word. They can also put the CCVC picture cards in alphabetical order. 
Support students who need help understanding the concepts by using a visual reminder of letter sounds, like an alphabet chart.
Use this resource as independent practice for fast finishers, and full-class learning opportunities like scoot activities, lesson reviews, formative assessments, and more.
🛴 Scoot Activity
Number and hang the CCVC picture cards around the room, and instruct students to take out a sheet of paper and number it 1-24. Assign students or pairs to a starting point. Students will rotate around the room to write the CCVC word on their recording sheet. On your signal ("SCOOT!" or flick the lights, clap twice, etc.), students will move on to a new card. Play continues until all students have written the word for each card. 
👋 Knock Off
Have your students stand up and make a line across the room. Project a card on the screen and use our Random Name Picker widget to draw a student's name to answer. If the student correctly identifies each letter in the word, they tap the person on their left or right to send them back to their seat. If the student answers incorrectly, they must sit out. Play continues until only 1 student is standing.
👯 Mirror Game
This activity is a spin on the classic "Newlywed Game" and works best with small groups because you'll need enough dry erase boards and markers for each student. Divide the students into 2 groups, and have them sit down in 2 lines facing each other. Read a word from one of the CCVC picture cards. Students will get 10 seconds to spell the CCVC word on their board. On your signal, the students turn their boards around so their partner can see their answers. If both students in a pair have the correct answer, they get 2 points. If one has the right answer, the team gets 1 point.
Get our 10 Best Scaffolding Strategies here! 
Easily Prepare This Resource for Your Students
Print on cardstock for added durability and longevity. Place all pieces in a folder or large envelope for easy access. 
Print a few of the word work mats on cardstock and slip them into dry-erase sleeves to turn this teaching resource into a sustainable activity. Students can record their answers with a dry-erase marker, then erase and reuse.
Before You Download
Use the dropdown icon on the Download button to choose between the PDF or Google Slides version of this resource. 
---
This resource was created by Lindsey Phillips, a teacher in Michigan and a Teach Starter Collaborator. 
Get in more CCVC word practice with these teaching resources and many more: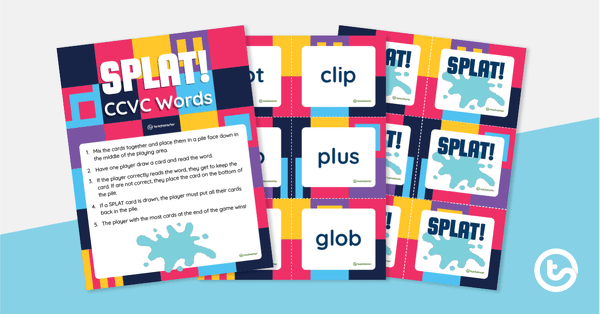 teaching resource
A set of 36 task cards to practice decoding and reading CCVC words.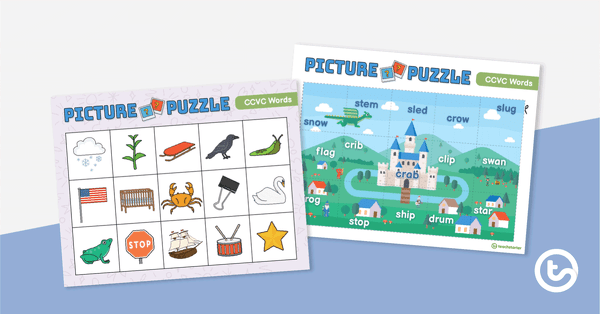 teaching resource
Practice decoding CCVC words with this 15 piece picture puzzle.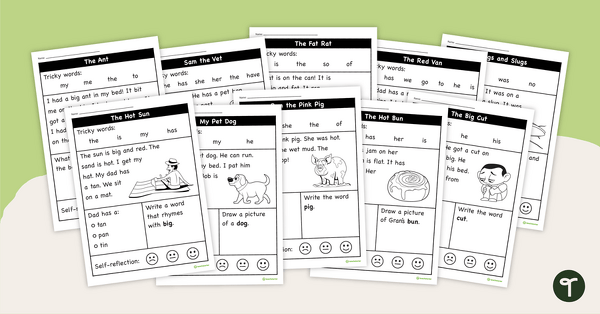 teaching resource
A set of 10 decodable text worksheets for early readers.