Practice decoding and spelling CCVC words with this set of 28 dominoes.
What Are CCVC Words?
The acronym CCVC refers to words made up of a Consonant, Consonant, Vowel, Consonant, in that order. 
They are words like snap, plum, flip. 
Once students begin learning how to identify phonemes and blend sounds, CCVC words become another layer of vocabulary they'll add to their phonological awareness skill set. 
In this dominoes game, students will read each CCVC word and connect it with its matching picture. 
Read and Play with CCVC Words and Pictures
This resource can be used as a reading center activity, with your guided reading groups, or as a full class activity to practice decoding and spelling CCVC words. 
To play, the domino cards are shuffled and divided equally among players. One player lays a domino down in the middle of the playing area. Students take turns matching the opposite end of the domino with the words and pictures that fit the sequence.
For example, if a player were to lay down the "stop | 📎 " domino. The next player would then play the domino with the 🛑  or the card with the word "clip" adjacent to the word or image. Gameplay continues in this way until someone lays down their last domino, making them the winner.
Get Even More From Our CCVC Words and Pictures Game! 
Looking for ways to extend your students' learning with this activity?
Scoot Activity
Get your class up and moving around while they get in some CCVC word practice! Place 3 sequential cards at each station. Student pairs will rotate through each station placing the cards in order. Students can keep track of their answers on a separate sheet of paper.
Swat! 
During small group instruction, create a grid of cards on top of a table, making sure that there are no matching picture cards for each word. Read the word side of the domino and have the students swat the card. The first student to swat it correctly sets the card aside in their own pile to keep score. The student with the most dominoes wins. 
Fast Finisher Independent Play
This game can be played single-player as a reading center activity. If you would like to check the students' work, ask them to write the sequence they come up with on a separate piece of paper.
Check out more dominoes games here! 
CCVC Word Game Scaffolding & Extension Tips
Challenge fast finishers to put the words side of the cards in alphabetical order. Then, have them put the picture side of the cards in alphabetical order. 
Invite students to use a visual reminder such as an alphabet chart to sound out words they may struggle with. 
Easily Prepare This Resource for Your Students
Print the task cards on cardstock for added durability and longevity. Place all game parts in a folder or large envelope. 
Before You Download
Use the drop-down icon on the Download button to choose between the PDF or Google Slides version of this resource. An answer key is also included with this download.
---
This resource was created by Lindsey Phillips, a teacher in Michigan and a Teach Starter Collaborator. 
We've got CVC, CCVC, CVCC word activities galore! Check out a few of our favorite student-approved activities below: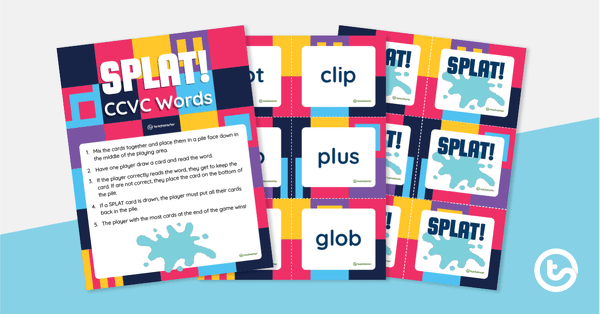 teaching resource
A set of 36 task cards to practice decoding and reading CCVC words.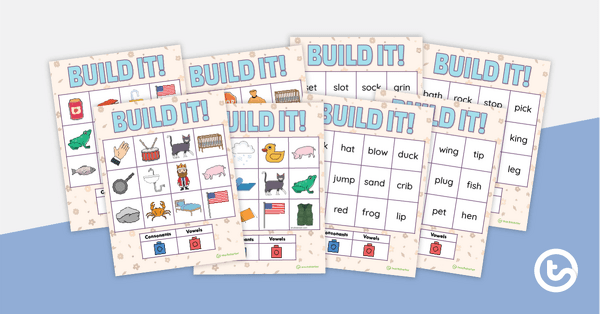 teaching resource
Encourage your students to practice decoding and spelling CVC, CCVC, and CVCC words with this set of 15 task cards.