Practice decoding words by their beginning and ending digraphs with this set of 18 match-up game cards.
Phonics games encourage students to engage in play while they build a mental library of memorable letter combinations and their sounds. 
Specifically, digraphs are 2 consonants that make 1 sound when combined (th, sh, ch, etc.). We teach students how to identify digraphs and their sounds to make sounding out unfamiliar words easier and more accurate.
To play this digraph activity, students will decode words with digraphs by matching the letter cards (the digraphs) to their picture cards to complete each of the words. 
Examples of beginning digraphs matches include:
sh_ + 👟  (shoe) 

ch_ + 🧀  (cheese)

th_ = 3️⃣  (three)
And end digraph matches:
_ch + 🪑  (bench)

_sh + 🐟  (fish)

_th + 👄  (mouth)
How to Play Our Digraph Matching Game
This resource can be used as a reading center activity, with your guided reading group, or your full class to practice decoding words with initial and final digraphs.
As a game for 2 or more players, students will shuffle the letter and picture cards and lay them all face down in rows. Each player takes their turn flipping 2 cards at a time until either finds the matching digraph to its picture and sets the pair aside to keep score. 
Turn this Digraph Activity into More Ways to Play (and Learn!) 
Extend this activity and get your whole class involved! Try out these ideas for turning 1 game into loads more opportunities for your students to practice spelling.  
Warm-Up/Exit Game
Pick a random assortment of picture cards and project them on the board for the whole class to see. Have each student pick 3 pictures to sound out the word each represents. Students can write their answers on a sticky note along with their names for an easy formative assessment. (Be sure to check out our printable Sticky Notes template + guide)
Find Your Match
Provide each student in your class with either a picture card or a word card. Challenge the students to find the student with either their matching picture card or word. For an extra challenge, make the activity a race, or ask the students to complete the task in silence!
Go Fish
It's easy to turn these cards into a game of Go Fish! Shuffle the cards and pass out 7 to each player. The remaining cards go in the center of the play area. Taking turns, players ask each other for matches: looking for the picture card that matches the digraph in their hand, or vice versa. 
Change the Difficulty Level if Needed
Students who have mastered matching the digraphs correctly can take their skills further by putting the words in alphabetical order.
If you have students who need assistance, refer them to a visual reminder like your classroom digraphs poster or a digraphs anchor chart.
Easily Prepare This Resource for Your Students
Print the game pieces on cardstock for added durability and longevity. Place all game parts in a folder or large envelope for easy access. 
Before You Download
Use the drop-down icon on the Download button to choose between the PDF or Google Slides version of this resource. An answer key is also included with this download.
---
This resource was created by Lindsey Phillips, a teacher in Michigan and a Teach Starter Collaborator. 
Looking for more digraph-teaching resources? Check out a few classroom faves and discover more in the spelling area!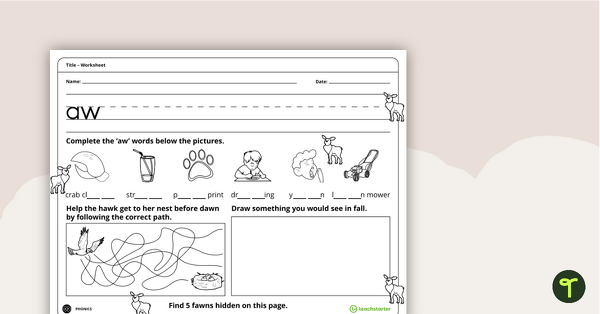 teaching resource
24 digraph worksheets that focus on handwriting and vocabulary activities.
teaching resource
A coding robot mat focusing on different digraphs.
teaching resource
A set of 32 blend and digraph cards that can be used in a variety of ways.