Black history is American history, and an easy way to start important discussions with your students is through a Black History Month bulletin board. There are so many impressive ideas and angles to focus on for Black History Month (and all year long!), so we've put together a starter list you can refer to for inspiration and ideas.
If you're unsure of what to portray or where to start on your bulletin board, keep scrolling and take a look at the ideas below.
Save time on your lesson plans this month! Browse our Black History Month collection for ready-made presentations, worksheets, writing prompts, and much more.
Create A Black History Month Bulletin Board
Whether you're creating a bulletin board for Black History Month or as an educational display during another time of year, here are some ideas from teachers across the country and beyond. The teacher team at Teach Starter has educational templates, word wall cards, art pages, and much more you can use to supplement your Black history bulletin board.
Black History Is American History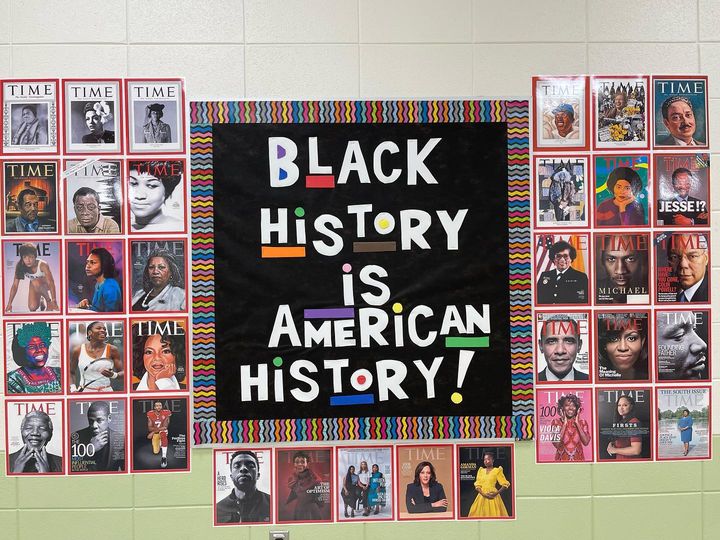 Photo courtesy of Hanover Hills Elementary School, Maryland
One talented teacher from Hanover Hills Elementary in Hanover, Maryland did a wonderful job assembling this collection of Time magazine covers to create a "Black History Is American History" bulletin board. Each cover portrays a famous Black American who has made an unforgettable mark on American society and our history including former Secretary of State Colin Powell, tennis phenom Serena Williams, entertainer Jay-Z, activist and former NFL star Colin Kaepernick, singer Aretha Franklin, Martin Luther King Jr., director Ava DuVernay, and Vice President Kamala Harris.
You can create a similar look for your classroom by recycling old magazine covers, printing your own, asking your local library for covers to print, or collecting them from a thrift store.
Breaking Chains in Education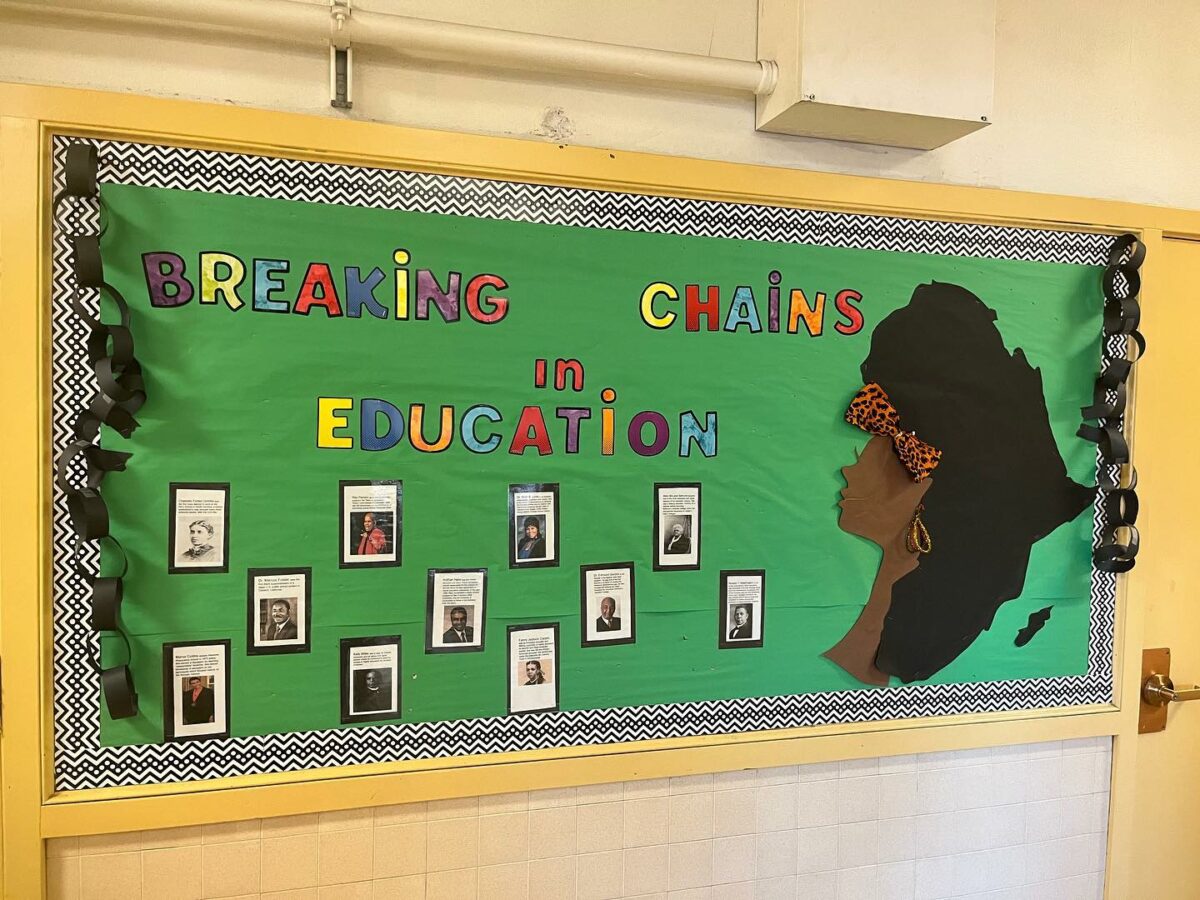 Photo courtesy of California 5th grade teacher Ms. Pratt
California 5th-grade teacher Ms. Pratt highlighted Black educators "who've made changes and history in education" on this bulletin board. Her use of a bold green background and a silhouette of Africa as the woman's hair makes this a bold and eye-catching display for the classroom or hallway.
Looking for some Black educators to feature on your bulletin board? Here are a few Black Americans who have changed the way our students learn to add to your board!
Booker T. Washington — In addition to his work advising a number of American presidents, Washington had a significant impact on the field of education as the founder of the Tuskegee Normal and Industrial Institute (now Tuskegee University).
W.E.B. Dubois — Best known for co-founding the National Association for the Advancement of Colored People (NAACP), Dubois taught at several universities, including Atlanta University and Fisk University.
Charlotte Forten Grimké — An abolitionist and activist, Grimké was among the teachers who helped formerly enslaved young people and adults learn to read during the Civil War.
Instead of focusing on educators, you could switch focus and use your bulletin board to teach students about some of the brave students who were on the front lines of the desegregating American schools from Ruby Bridges to the Little Rock Nine (Minnijean Brown, Terrance Roberts, Elizabeth Eckford, Ernest Green, Thelma Mothershed, Melba Patillo, Gloria Ray, Jefferson Thomas, and Carlotta Walls).
Teach Starter Tip: Create a similar display using our free Blank Letter and Number Cutouts download.
The Hill We Climb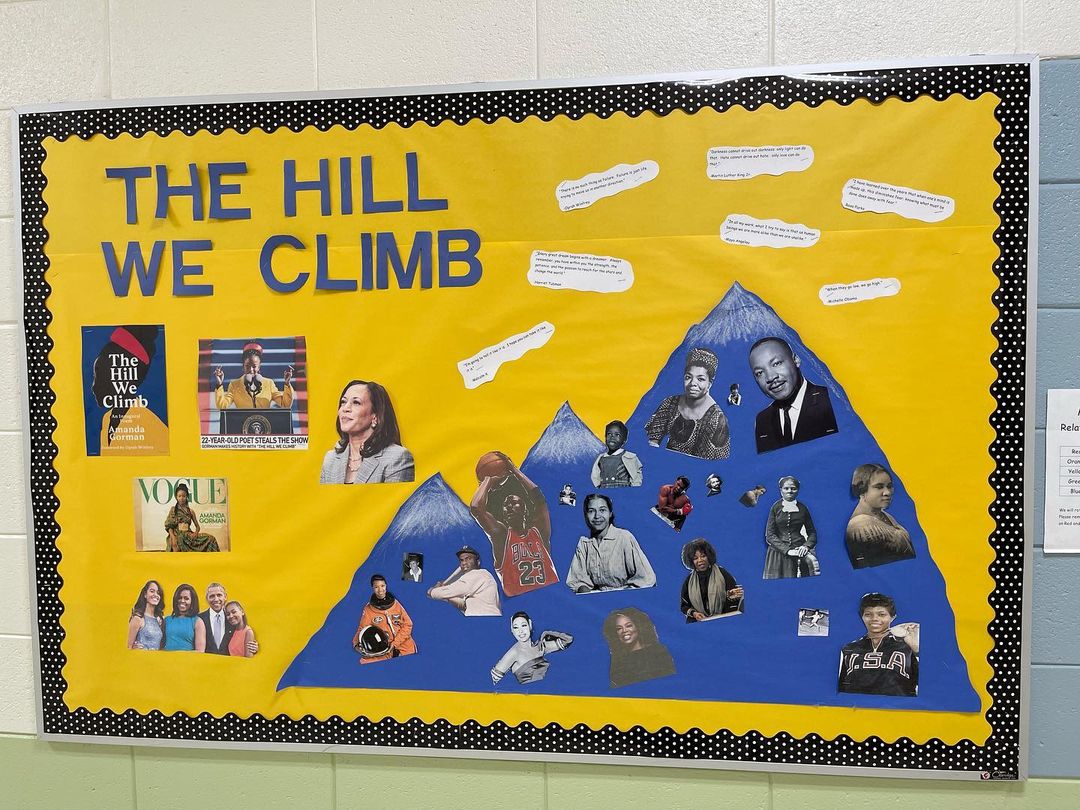 Photo courtesy of Hanover Hills Elementary School, Maryland
Poetry is a unique theme to focus on for a bulletin board such as this example by a Maryland teacher from Hanover Hills Elementary. They used the inaugural poem by Amanda Gorman as the basis for their Black History Month bulletin board. The poem is entitled "The Hill We Climb" which you can listen to here and created a metaphorical mountain with printouts of historical figures like Rosa Parks, Maya Angelou, and Harriet Tubman.
Here are some other ideas for poems you can study with your class and highlight on your Black History Month bulletin board:
Life Doesn't Frighten Me by Maya Angelou
Dreams by Langston Hughes
Black is Beautiful by Shannon D. Brown-Rogers
Still I Rise by Maya Angelou
Teaching upper elementary? This Amanda Gorman biography project will introduce your students to the poet!
Local Black History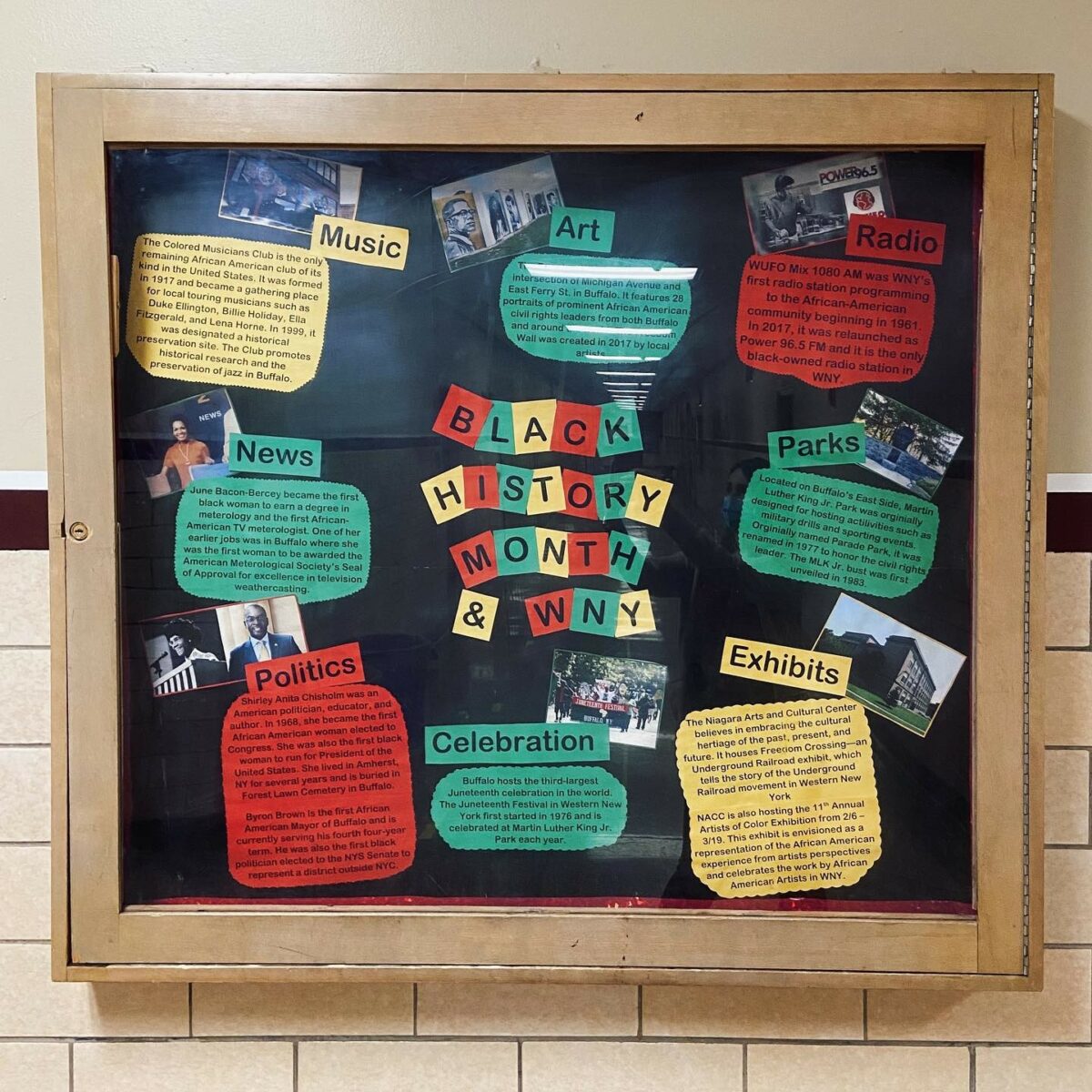 Photo courtesy of Western New York high school librarian Amy
Black History doesn't have to be global or national for students to learn it. Amy, a western New York school librarian, thought it was important to highlight Black history right in her students' community in the western New York area on her Black History Month bulletin board. She includes exhibits, parks, politics, and celebrations to enlighten her students' knowledge of history and culture.
Spend some time investigating Black history in your local area to create a similar bulletin board. Once you've researched and typed out some information, you can use these descriptions each year or for a permanent bulletin board in your classroom or hallway.
Black, Bold and Gifted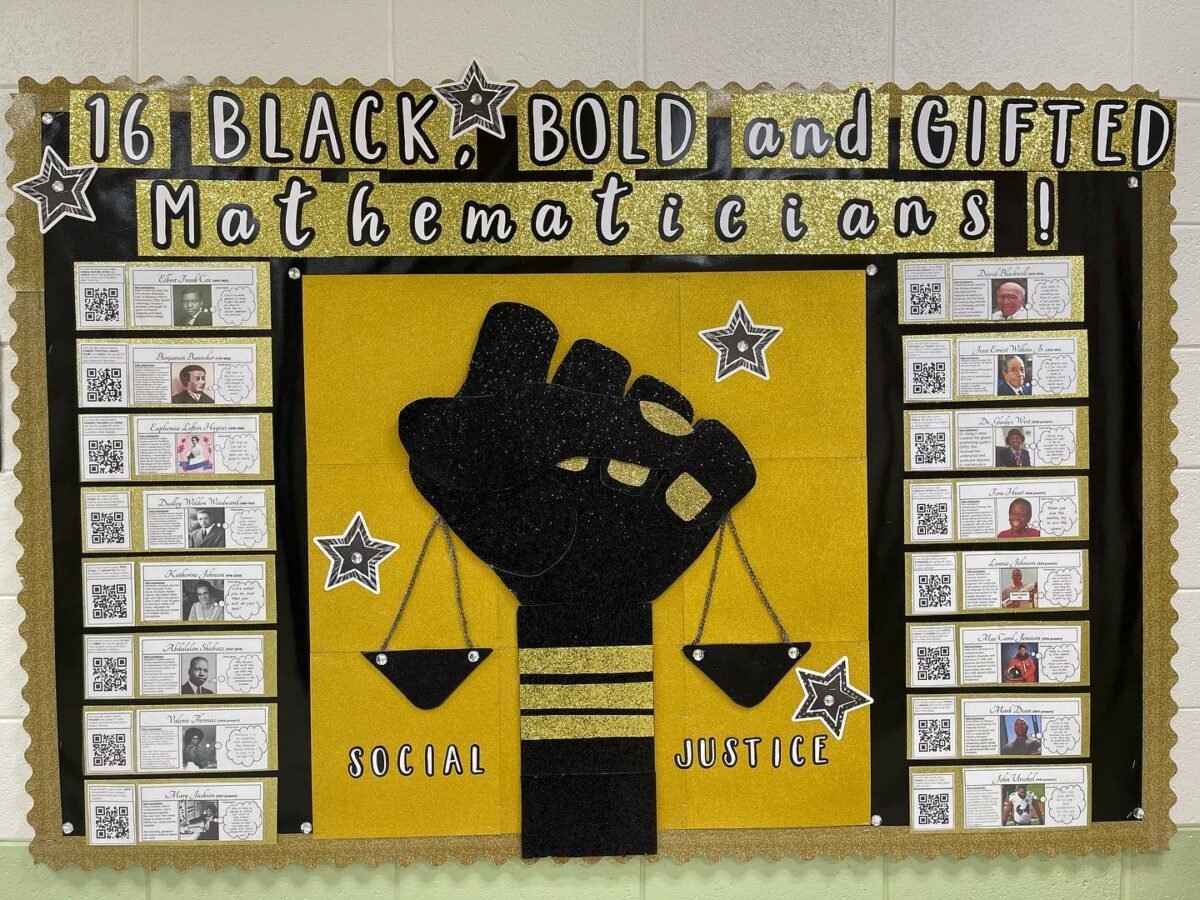 Photo courtesy of Hanover Hills Elementary School, Maryland
Go bold with your bulletin board! This Hanover Hills Elementary teacher certainly did with their use of bright yellow and black felt. Many Black History Month bulletin boards highlight well-known Black Americans such as Martin Luther King Jr. and Rosa Parks. Branch out with other historical figures such as Black mathematicians, scientists, poets, authors, etc.
If you're a science or math teacher, here are some talented figures you can include in your bulletin board:
Benjamin Banneker — Best known for building America's first clock
Euphemia Lofton Haynes — The first Black American woman to earn a PhD in mathematics
Katherine Johnson — Worked at NASA and provided calculations for John Glenn's orbit around the Earth
George Washington Carver — Invented more than 300 uses for peanuts
Alexa Canady — First female African-American neurosurgeon in the United States
I Have A Dream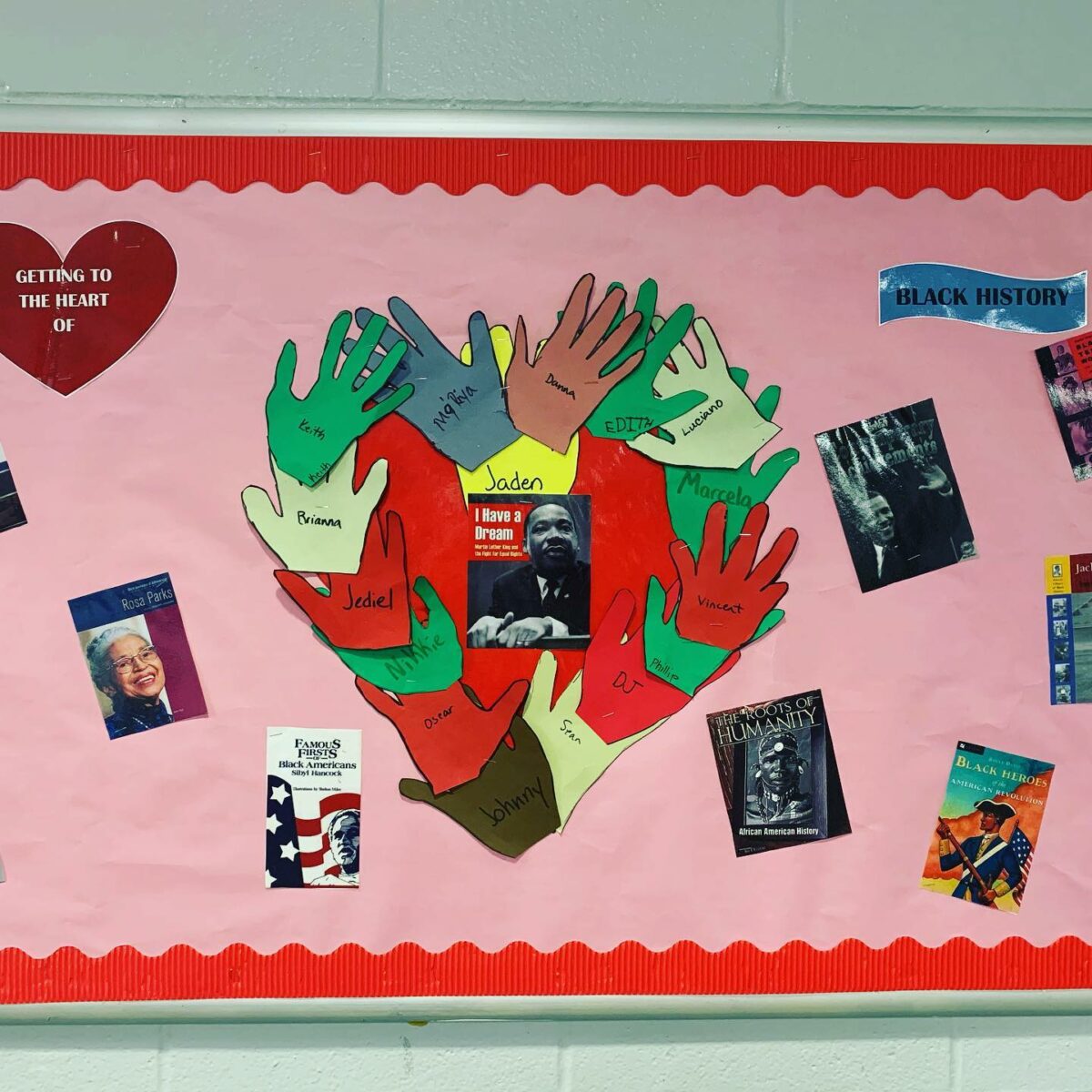 Photo courtesy of Florida school librarian Marjorie Panopio
Handprints and cutouts are always useful when working with elementary students. Florida school librarian Marjorie did this with her bulletin board for Martin Luther King Jr. Day and Black History Month. She used colorful hand cutouts in the center with names of some of the school's special ed students and scattered book cover printouts on the rest. Some of the books she highlights include:
Want to create a similar display? Print out our free hand templates to get a head start!
Black Authors
Photo courtesy of Hanover Hills Elementary School, Maryland
Continuing with the library bulletin board theme, here's another creative display from a Maryland teacher at Hanover Hills Elementary. Plenty of elementary-appropriate books by Black authors cover this eye-catching bulletin board. Check out some of these titles to include in your own:
Consider placing a similar bulletin board above a table or bookshelf with the highlighted titles ready to pick up and read to encourage instant reading!
Learn From Black History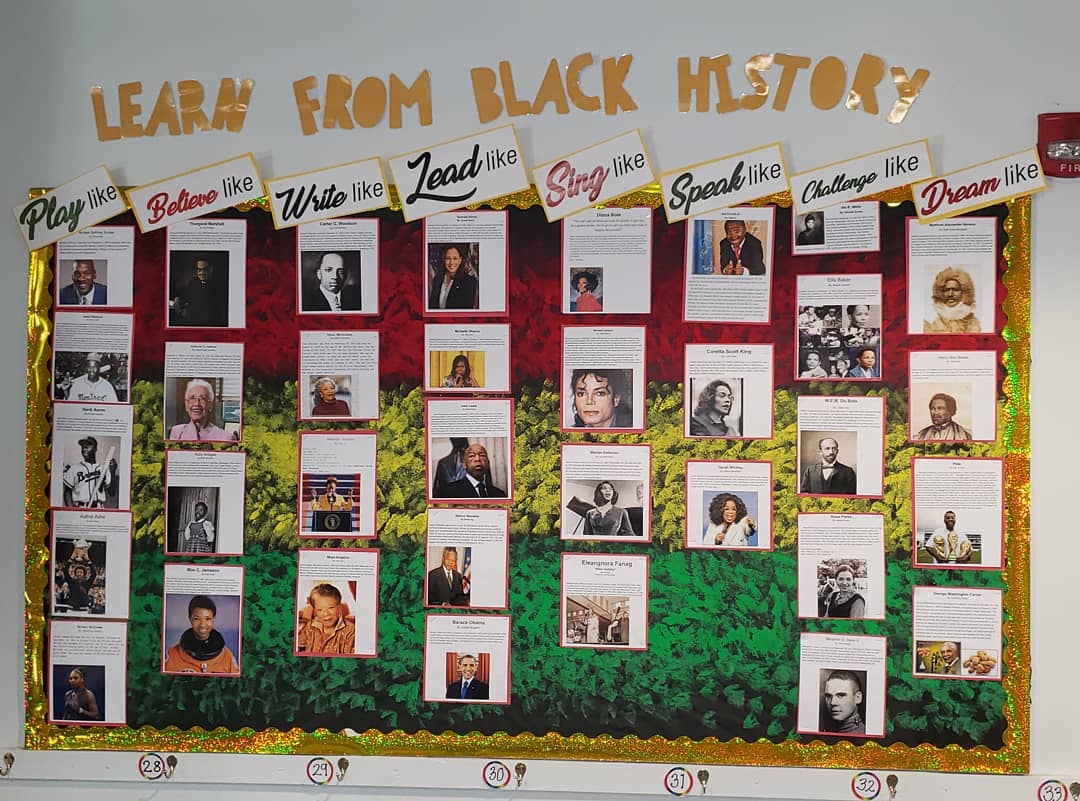 Photo courtesy of Hawaii sustainability and innovation coordinator Katherine Jones
Too many famous figures to choose from? We understand! Fifth graders at Katherine Jones's Hawaii elementary school put in some research for this Black History bulletin board display including authors, athletes, scientists, musicians, and more. Each historical figure fits into the following categories:
Play Like
Believe Like
Write Like
Lead Like
Sing Like
Speak Like
Challenge Like
Dream Like
A bulletin board like this is perfect for a social studies, history, or culture class to put together and would be appropriate in the hallway for multiple classes to enjoy and learn from!
Want to create a similar display? Create an "Invent Like" category with our Innovative Inventors downloadables.
Famous African American Athletes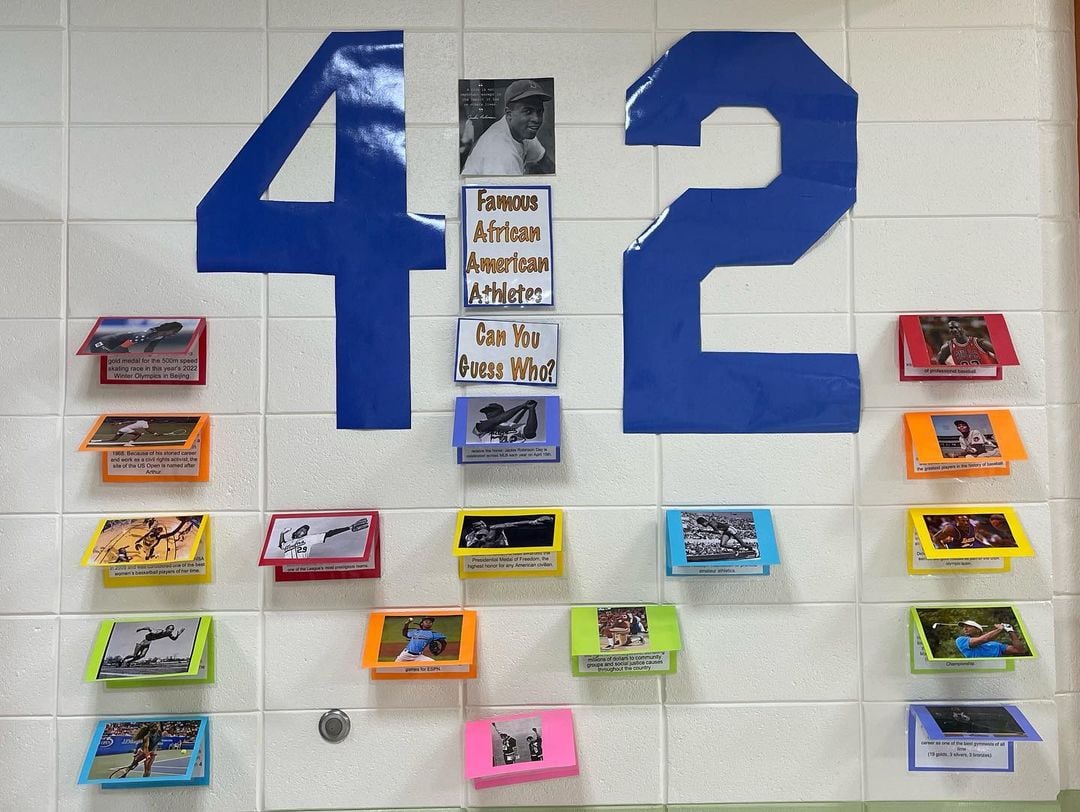 Photo courtesy of Hanover Hills Elementary School, Maryland
This interactive bulletin board by a Hanover Hills Elementary teacher focuses on famous African American athletes. Kids that walk by this board will be able to learn one by one about each athlete after viewing their photo.
Use colored construction paper for this display by simply folding and gluing! You can even assign each student one historical figure to focus on, and assemble everyone's creation afterward to take the workload off of you.
Looking for famous figures to highlight? Consider some of these famous Black athletes:
Joe Louis — boxer
Jesse Owens — track and field
Jackie Robinson — baseball
Althea Gibson — tennis
Magic Johnson — basketball
Serena Williams — tennis
Simone Biles — gymnastics
Young, Gifted, and Black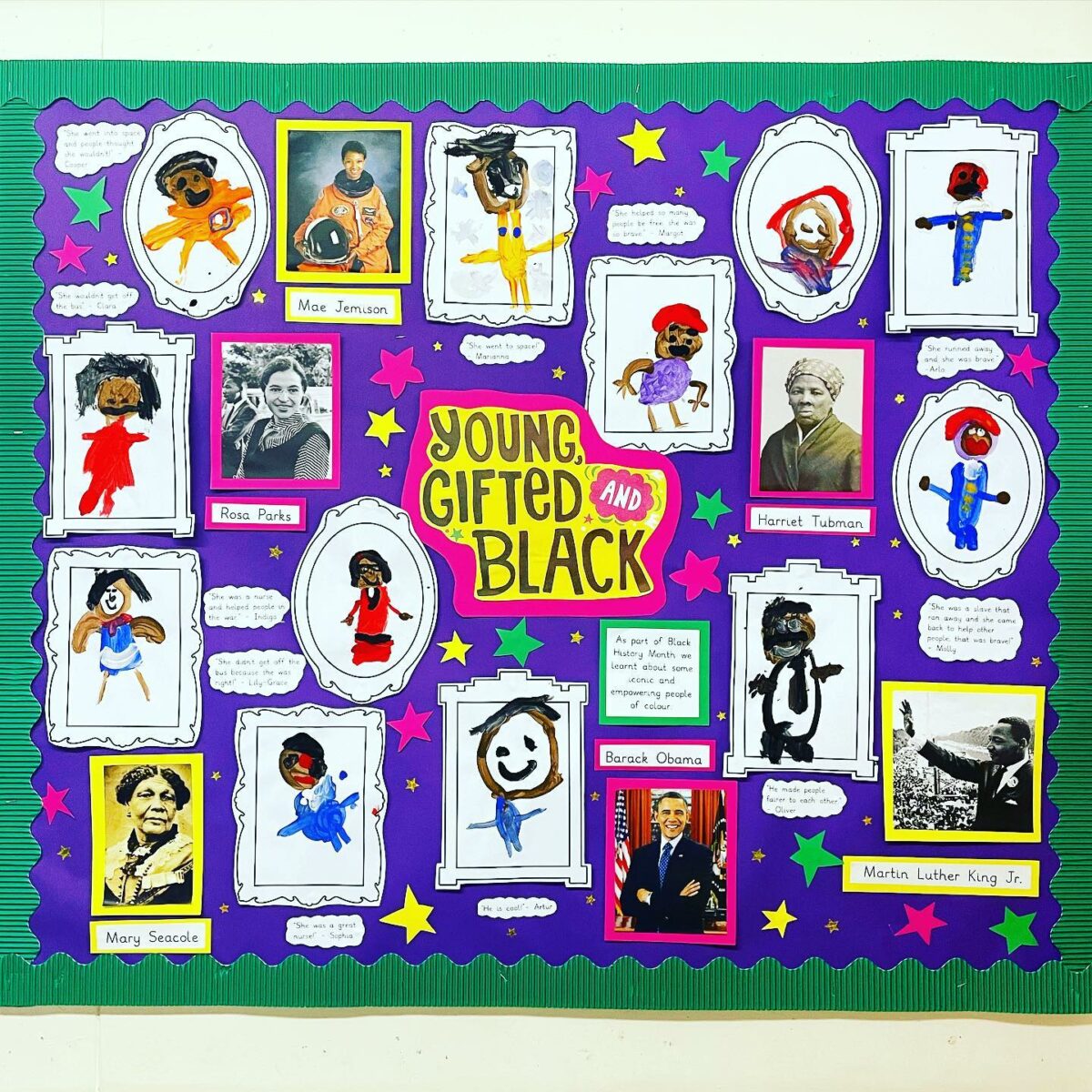 Photo courtesy of reception teacher Miss Hawkridge of England.
If you have younger students like English teacher Miss Hawkridge, this is a great example of an age-appropriate bulletin board to gather inspiration. Incorporating art into your lessons is always a good idea.
Each child painted their own portrait of a historic Black figure in a frame, and Miss Hawkridge added photos with quotes from her students about their understanding of each person.
Honor Celebrate Inspire Empower
Photo courtesy of Hanover Hills Elementary School, Maryland
Empower your students with independent research using templates like this Hanover Hills Elementary teacher. They had each student fill out their own worksheet highlighting a different Black historical figure including Rosa Parks, Michelle Obama, and Martin Luther King Jr.
This is a perfect example of a homework assignment that can be put on display. You can also assign one historical character per student pair or small group to encourage teamwork in the research process.
Like this idea? Use our 'All About…' Informational Text Templates with your class, and create a similar bulletin board with the help of your students.
Challenge, Dream, Fight…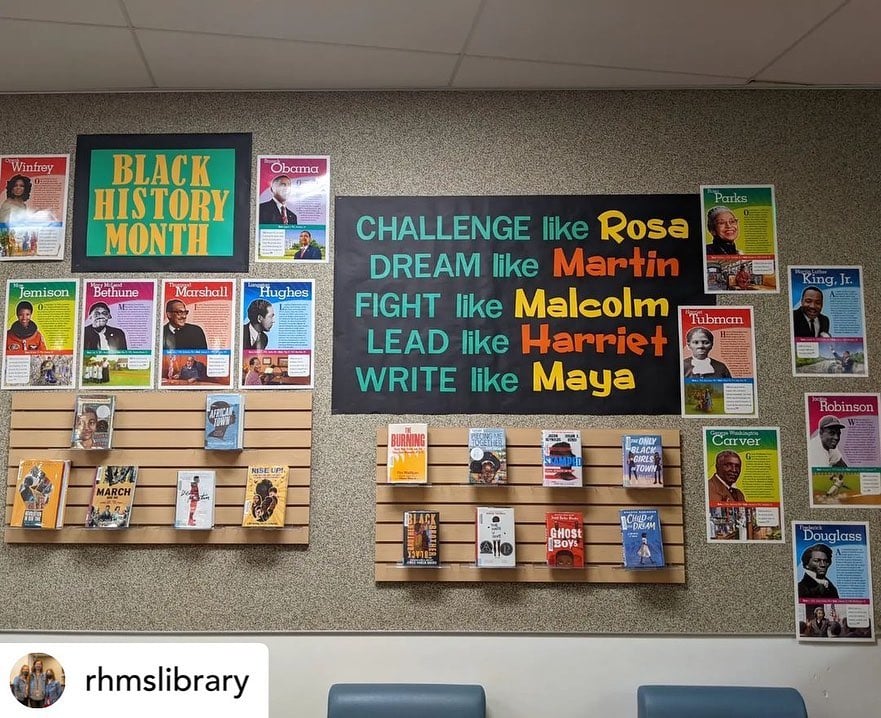 Photo courtesy of Richmond Hill Middle School of Georgia
The librarian at Georgia-based Richmond Hill Middle School made this beautiful display for Black History Month. Among varying book titles, they included the words, "Challenge like Rosa, Dream like Martin, Fight like Malcolm, Lead like Harriet, Write like Maya."
The descriptions of famous figures in the posters are sure to inspire students to learn more about each person and browse some of the books on display. Use this bulletin board idea over your classroom bookshelf or for your school's library.
MLK Jr. Had a Dream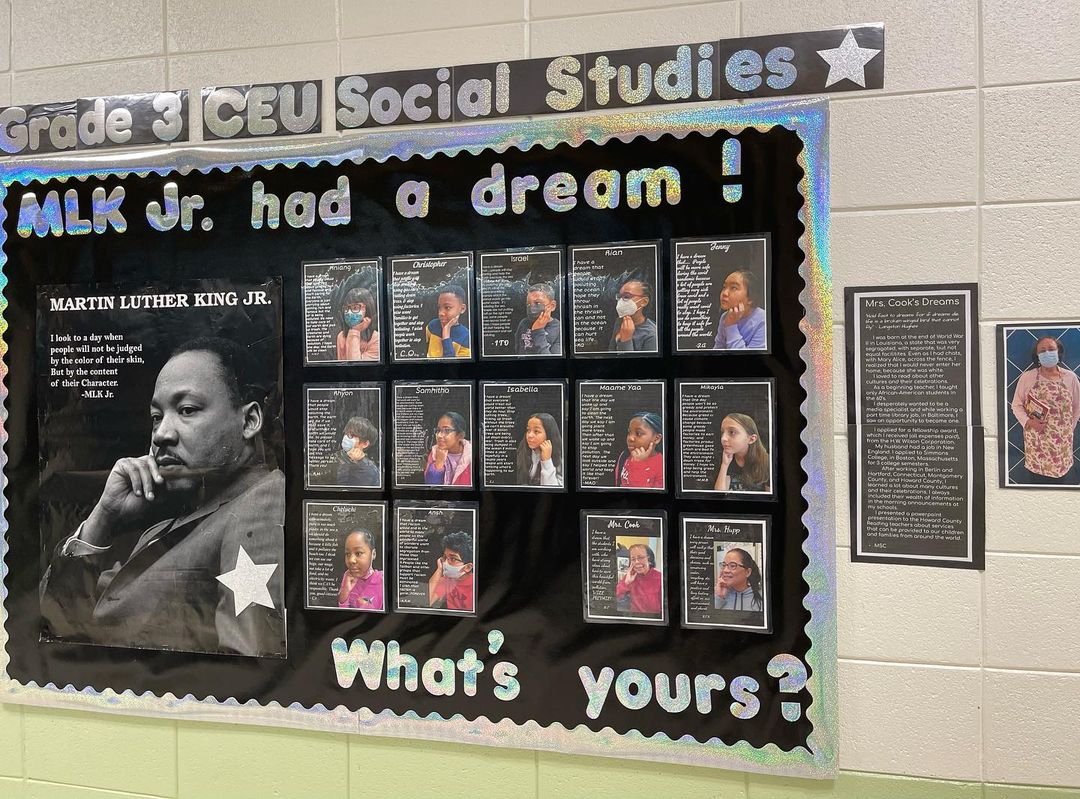 Photo courtesy of Hanover Hills Elementary School, Maryland
We end with another creation from Hanover Hills Elementary focused on Martin Luther King Jr.'s "I Have a Dream" speech. Each third-grade student wrote their dream to go alongside an MLK poster with a quote from his famous speech in Washington D.C.
Each student can treasure their laminated dream to capture their hopes and wishes from their young school years when they're older.
You can create a similar bulletin board using our free downloadable 'I Have a Dream' writing prompt pages.
Use one of the design ideas above or combine a few to get the look you envision for Black History Month or any time during the school year. If you still want to browse posters, prompts, and printables for ideas, check out our entire Black History Month collection.