Planning to spread a little bit of the luck of the Irish in your classroom this year? St. Patrick's Day is the day that every American is Irish — at least in spirit — and celebrating at school with St. Patrick's Day activities is more than a little fun for little ones … and us grown-ups too.
We went hunting for golden St. Patrick's Day activities for kids that are the perfect mix of fun and education, and we might have caught a few leprechauns along the way! Here are some favorites from members of the Teach Starter teacher team!
When Is St. Patrick's Day 2022?
Unlike the many holidays that jump around from year to year (hello, 100th Day of School), St. Patrick's Day is pretty easy to plan for because it's March 17 every single year. Despite what some mistaken meme on the Internet might have told you (sigh), the day is not actually the birthday of St. Patrick but marks the day the patron saint of Ireland died way back in 461 A.D.
That means St. Patrick's Day will be on a Thursday in 2022, and most schools will be in session (closures for inclement weather aside).
How Do Schools Celebrate St. Patrick's Day?
Maybe you're new to teaching and wondering if St. Patrick's Day is OK to touch? Although it's named for a Catholic saint, celebrations of St. Patrick's Day are largely secular, and that includes public school celebrations. While there might be a special Mass that kids attend in Catholic schools, public school kids are probably just going to wear green, bust out some STEM skills building leprechaun traps, and maybe munch down on soda bread in the cafeteria. There are countless fun St. Patrick's Day activities for school that have absolutely nothing to do with religion!
Fun St. Patrick's Day Activities for Kids
Make Rainbow Soap Foam
There may not be a pot of gold at the end of this science experiment, but there is an investigation into how gas bubbles are trapped in liquids and solids!
Teaching younger students? Rainbow foam makes for a super sensory experience for St. Patrick's Day.
Find out how to make your own rainbow foam recipe with just three ingredients. 
Start Clover Seeds
Do you like to do some spring planting with your class to teach them about all the things that seedlings need to grow? Skip the bean sprouts this year, and substitute clover seed! Not only is this activity perfectly themed to St. Patrick's Day, but clover opens up discussions about its use in feeding livestock, its release of nitrogen into the air to help other plants, and more.
Clover is also incredibly easy to grow from seed, meaning your class is almost guaranteed to see the fruits of their labor.
Find out how to grow clover from seed indoors!  
Decorate With Rainbow Names
Do you like to decorate your classroom door or hallway display board for holidays with your student names? These little rainbows are perfect for St. Patrick's Day and also extend into spring — so you get more life out of them!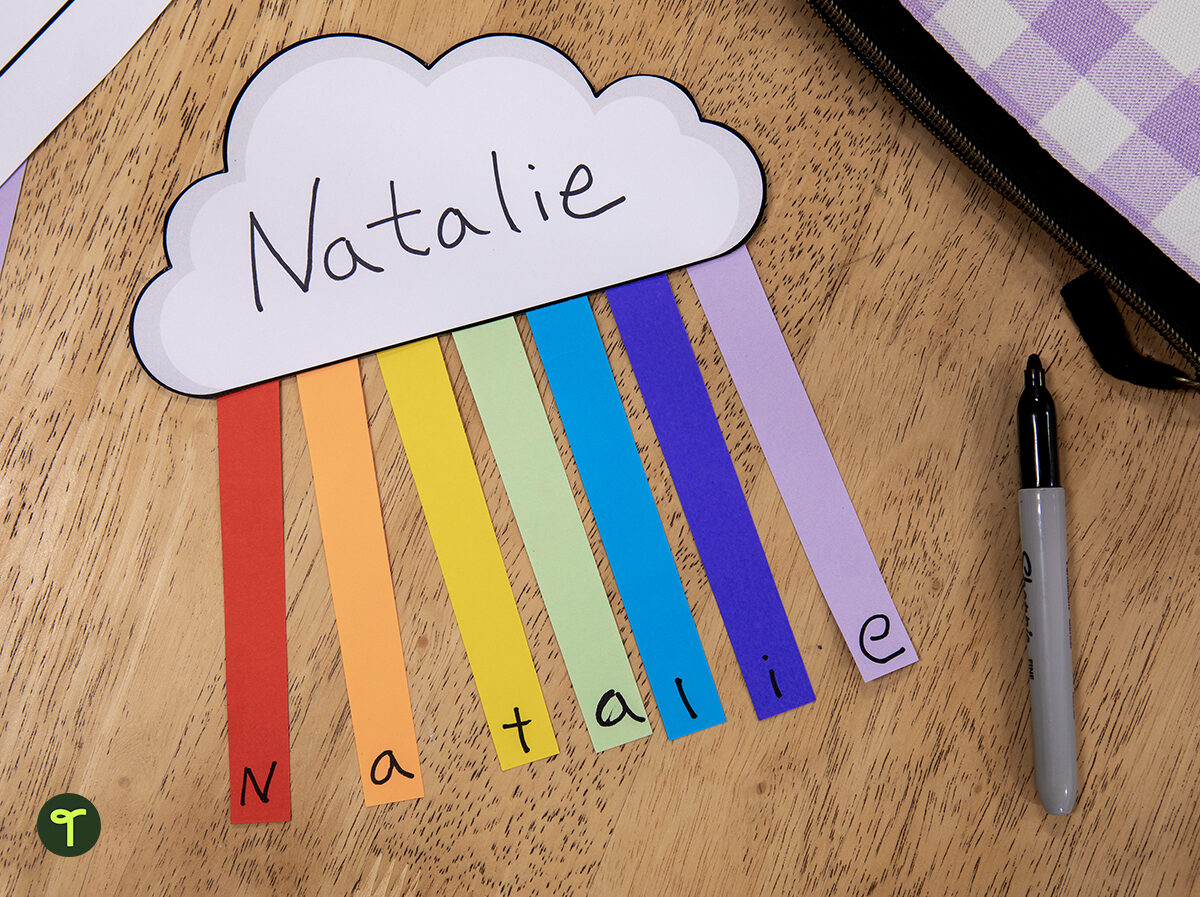 Need a cloud template to make it easier? We've got you! 
Build Leprechaun Traps
Build on the magic of the leprechaun to develop students' engineering skills by creating leprechaun traps designed to capture their own little leprechaun. This hands-on STEM activity can be accompanied by a reading of the fun book How to Catch a Leprechaun by Adam Wallace and extend to students practicing their procedural writing by writing "how to" tutorials on how their traps will work to ensure they return to the classroom to find a magical creature has been captured!
Learn About Water Movement With Rainbows
Another fun STEM activity for St. Patrick's Day, the ever-popular walking water experiment introduces kids to the concept of capillary action but with a rainbow twist! Encourage your kids to make predictions about what they think will happen when you fill jars with water and food coloring, then drop in paper towels that link the jar together.
Get the full details on this experiment plus a video!
Make Shamrock Mosaics
Work on patterns and help younger students build their shape recognition with a fun St. Patrick's Day mosaic activity featuring one of the holiday's best-known symbols: The shamrock. You can also use the Mosaic Clover Art Activity to complement your students' understanding of the symbolism behind St Patrick's Day.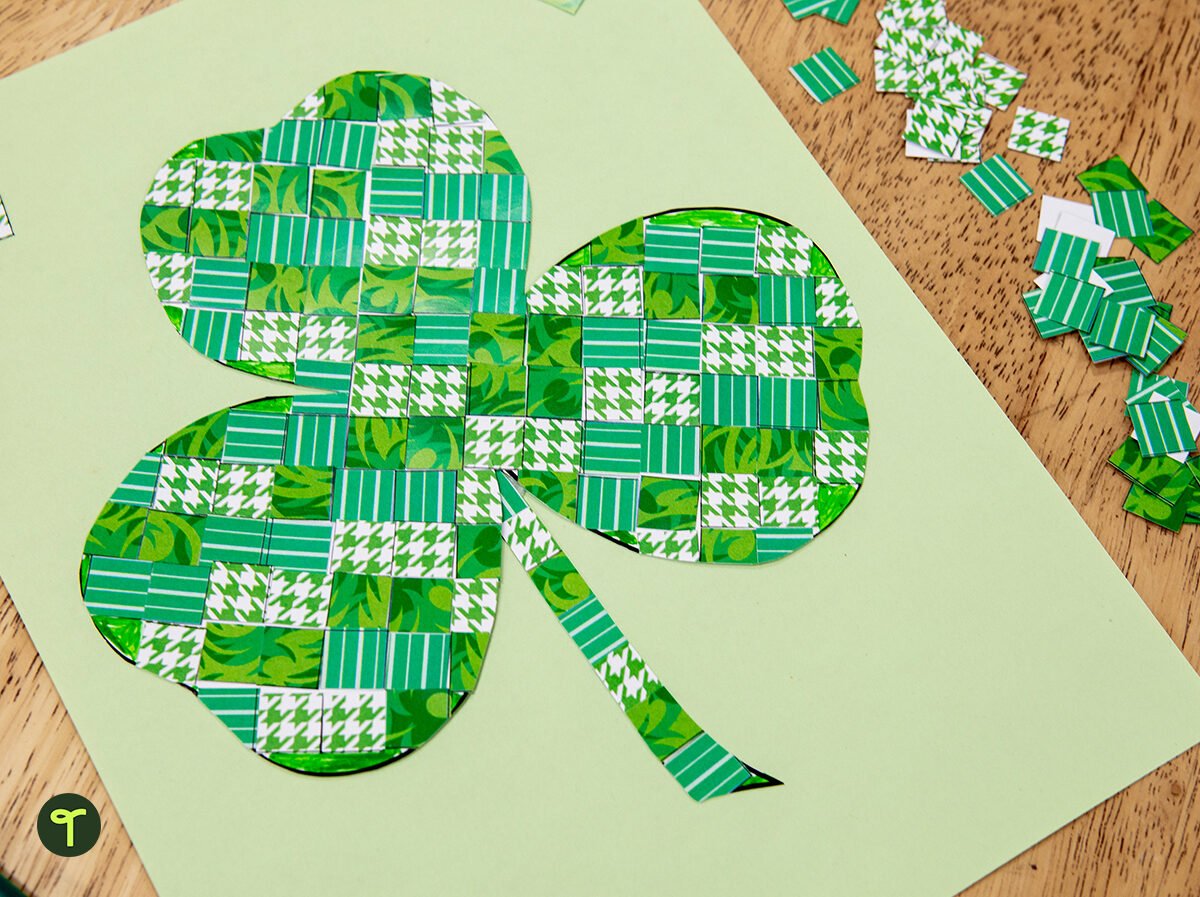 Design Rainbow Bridges
Stock up on colorful straws from the dollar store, and your students can tackle bridge-making to learn about engineering for St. Patrick's Day. Using the straws, groups of students can make rainbow-colored bridges between desks that will hold up a book — or several!
Create a St Patrick's Day Word Search
We've got a word search themed around all things St. Patrick and Ireland ready-made for your class, but if you haven't used our  Create Your Own Word Search Widget, you're missing out! This is the perfect widget for putting a fun spin on learning St Patrick's Day vocabulary.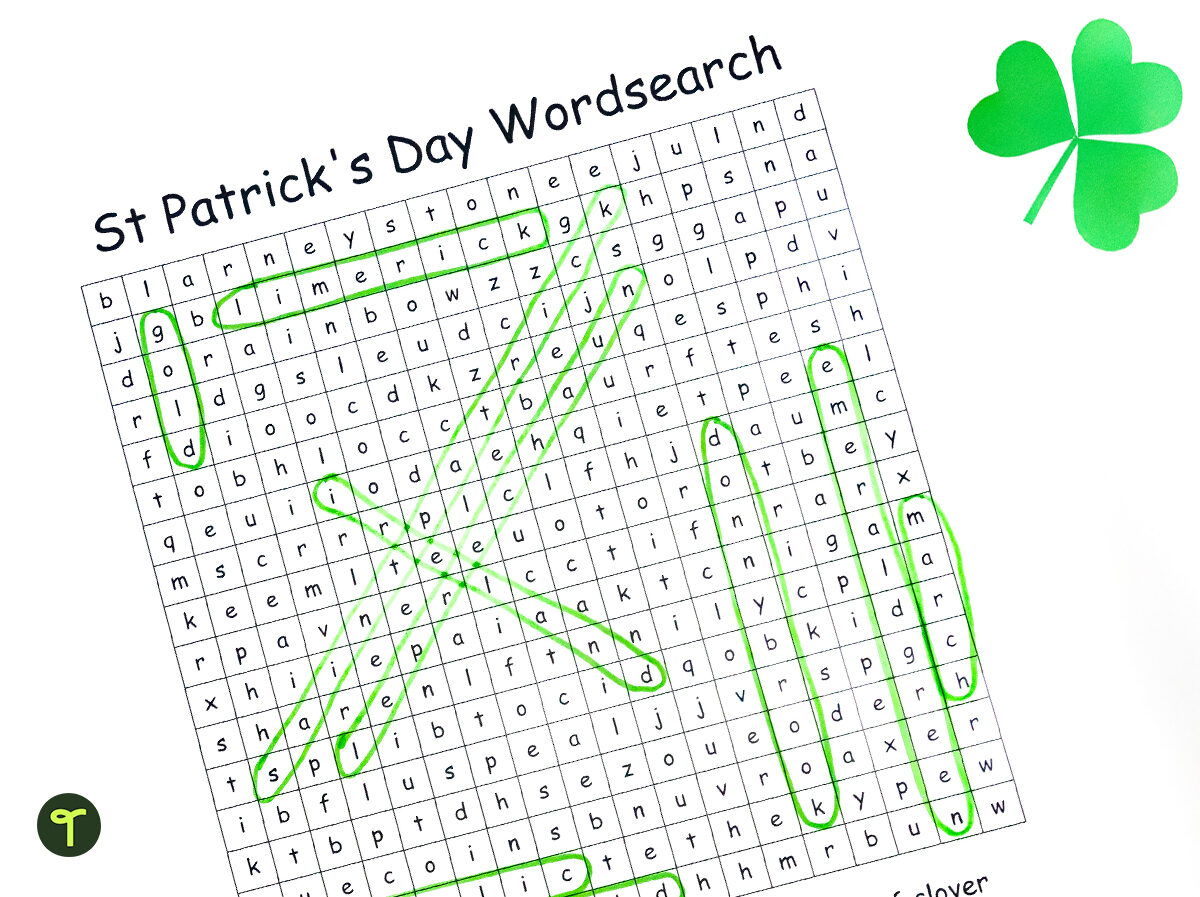 Load your vocabulary words into the word search generator and you're ready to go! Since you're steering the ship, you can create a vocabulary search suitable for any age level.
I am Lucky Because…
Add a social-emotional element to your writing centers with a chance to write about why they are lucky like a leprechaun.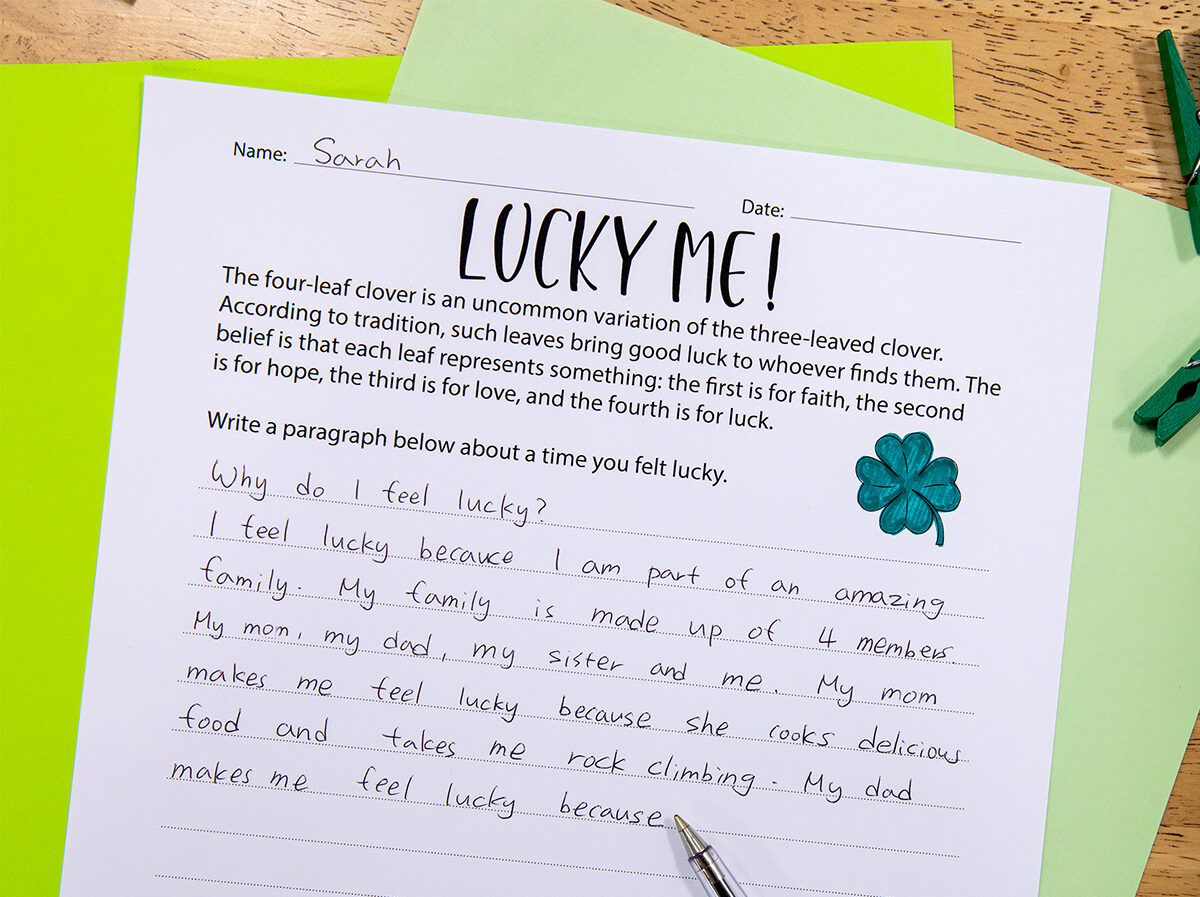 Rainbow Watercolor Pot of Gold Art Activity
Your little 'leprechauns' will love creating their own pot of gold at the end of the rainbow with this easy art activity!
You will need:
watercolor painting equipment
black card for your pots
gold paper to make gold coins
glue and scissors
This watercolor rainbow will brighten any classroom, but watch out… the leprechauns may be back to make mischief if they find out their gold is on display!
Write Limericks
You can't study Irish tradition without a lesson on limericks!
Show the video above, and ask students:
What is the structure of a limerick?
Can you tell me about the rhyming pattern of a limerick?
Use this Writing a Limerick Worksheet for your students to create hilarious limericks of their own!