An editable PowerPoint to use when teaching your students about cardinal directions.
What Are Cardinal Directions?
Cardinal directions are the four main points that can be found on any compass rose. A compass rose can be found on all good maps and is used to indicate which direction is north (the first of the four cardinal directions). The other three cardinal directions are south, east and west.
There are some easy mnemonic (memory) devices that students can use to remember the order of the cardinal directions. One favourite tends to be Never Eat Soggy Waffles… but whatever works for the individual student is just fine!
This teaching presentation explains the four cardinal directions and how to use them when locating places on a map. It also contains check-for-understanding slides, making it easy to see which students need extra support while keeping your students engaged throughout the presentation. The PowerPoint ends with a link to one of our worksheets, allowing your students to put their new learning into action!
Download, Project, Teach!
What teacher doesn't love a paperless resource? Access the Microsoft PowerPoint presentation via the Download button above.
Access more fabulous map skills resources here!
---
The resource was created by Colleen Burke, a Teach Starter Collaborator.
Use the following worksheet in conjunction with this presentaion: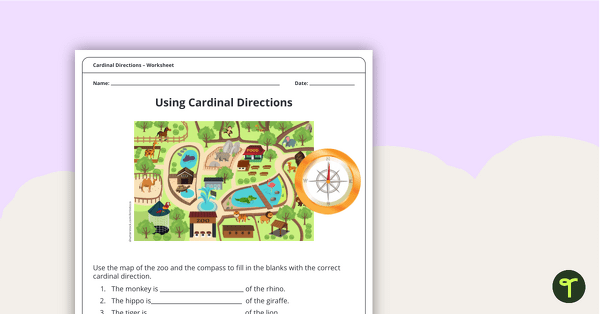 teaching resource
A worksheet to practise using cardinal directions.